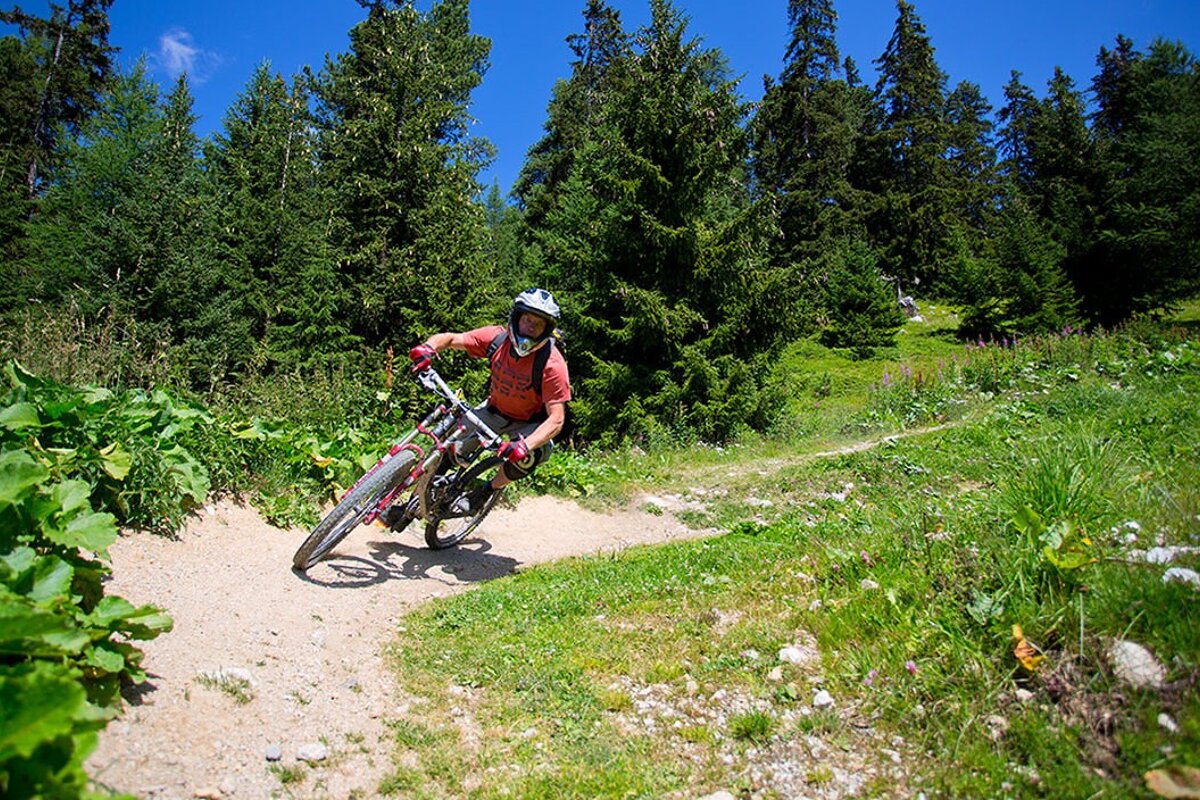 Super Huit,
MTB and E-MTB all mountain race in La Plagne
There's something for everyone, from long distance to amateur formats through to themed rides.
A superb schedule of events over the weekend.
Super8
The main race here, reserved for experts and elites in eMTB. It's a two-day event with one night spent out under the stars in a bivouac.
Day One: 52km, 3,000m (D+), 3,447 (D-)
Day Two: 48km, 2,970m (D+), 2,523 (D-)
This route has been especially designed for eMTB, with more than 90% on 'single tracks', where each rider and his bike is individually tested on both uphill and downhill. There are fast climbs through forests, steep and technical high mountains, ridge lines with unrivalled panoramas and enduro descents. The race is limited to 50 participants based on their sporting cv.
Double8
A timed event ranging from 23km to 82km. The race route is in the shape of a double eight, or a four-leaf clover. Each is open to solo riders or a two-person relay team. The participants can select how many routes they want to complete, all dotted with various landscapes of high mountains and forests. Only those that complete all four stages will be considered finishers.
Loop One - Plagne Montalbert sector: 23km, 1,025m (D+)
Loop Two - Montchavin-les-Coches sector: 23km, 815m (D+) Cumulative 46km
Loop Three - Champagny en Vanoise sector: 25km, 1,165m (D+) Cumulative 71km
Loop Four - Tour du Saint Jacques: 11km, 815m (D+), Cumulative 82km
Single8
A 'discovery' version of the Double8 for those that prefer things a little calmer. Only two loops to complete, each 23km long, so depending on your fitness and motivation on the day you can either complete one or two, riding 46km in total. It's a timed course, but without classification and the race is open to everyone.
Loop One - Plagne Montalbert sector: 23km, 1,025m (D+)
Loop Two - Montchavin-les-Coches sector: 23km, 815m (D+) Cumulative 46km
Climb of La Plagne
For lovers of hairpin bends, this is a dry climb on open road of 18km, 1,300m elevation gain and 21 bends...there are competition and leisure versions here.
Discovery hikes
Sunset: leisure hike with a state-certified instructor who will take you to a panoramic viewpoint to admire the sunset over the peaks of the Tarentaise while you enjoy a small local snack.
Gourmande: you will enjoy the panorama of La Plagne, with Mont Blanc in the background, plus discovering products of the region made by local producers during three gourmet breaks.
Super Kids Races
For spotting the future champions:
Enduro for 9-14 year olds
VTT for 5-8 year olds
Drasienne for 2-4 year olds
Watch this
More inspiration...
You can find out more about the events and how to enter at the website link above.
Location