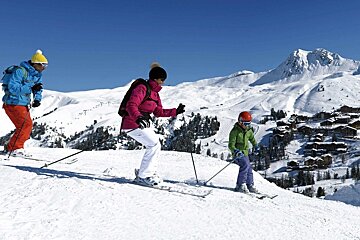 Ski area in La Plagne
Discover the best of the La Plagne ski area
La Plagne is part of the Paradiski linked ski area, which is one of the largest ski areas in Europe and the second biggest linked ski area in the world. With its modern lift system and wide range of pistes, it's a ski destination that will suit everyone.
The main things to know about La Plagne ski area are:
Snow-sure high altitude skiing
Over 70% of the Paradiski ski area is above 2,000m, which means plenty of snow throughout the season. You can ski from village level at 1,250m all the way up to 3,250m at the highest point.
Great for families and beginners
Selection of beginner areas, ski-in/ski-out access and free shuttles linking the whole area.
Part of the Paradiski area
The second largest ski area in the world, linked with Les Arcs and Peisey-Vallandry since 2003.
Easily accessible
By air, train, coach or self-drive there are numerous routes to easily get yourselves to the La Plagne villages.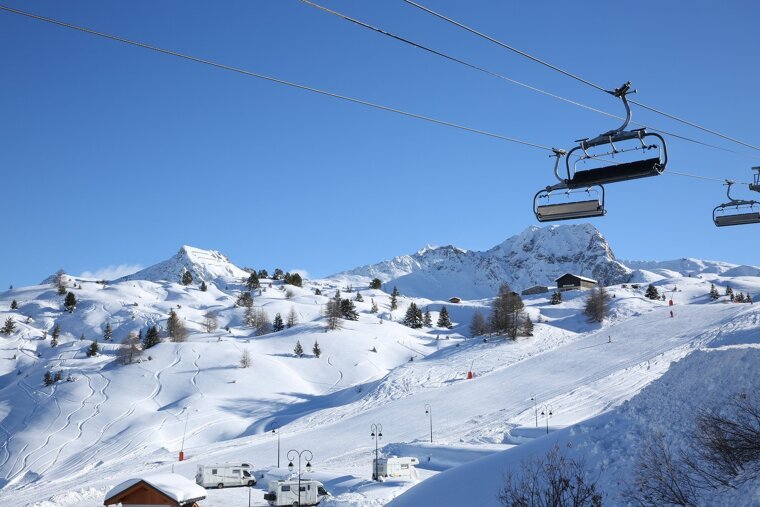 La Plagne Ski Area
Located in southeast France, in the Savoie department of the Rhone-Alpes region, La Plagne consists of six high altitude resorts (linked by a free public transport service), and four village resorts with access to the entire Paradiski ski area.
Linked since 2003, Paradiski is an area that incorporates all of the resort villages of Les Arcs with those in La Plagne and Peisey-Vallandry, meaning that no matter where you stay, you have access to the whole Paradiski area with its 141 lifts, 260 pistes and 425km of ski terrain. Of these 260 pistes, 12 are green, 135 are blue, 77 are red and 37 are black (see the piste map).
La Plagne itself has a total of 132 pistes with 70 blue pistes, 34 red pistes, eight black pistes and nine green pistes. These are accessed by a network of 74 ski lifts. The various villages that make up the resort all offer something different in terms of skiing, from great beginner areas to more advanced, technical pistes and some lovely long cruisey slopes. Several snowparks offer you the chance to bonk, jib and learn new tricks, whilst the off-piste areas allow you to explore more of this beautiful region, plus there's around 80km of cross-country skiing, a half pipe, and it's the only resort in France with an Olympic Bobsleigh track.
What's it like to ski and snowboard in La Plagne?
A purpose built ski resort, La Plagne opened its doors to the snow sports industry in 1961 with two drag lifts and four ski slopes. Back then it was in fact only Plagne Centre, long before it became the interlinked resort of today. Aime 2000 was next, connecting to La Plagne in 1969 with the then futuristic Télémetro gondola. In the 1970s connections were added to Champany, Montchavin and Plagne Villages, and Montalbert, Les Coches, Belle Plagne and Plagne 1800 in the eighties. In 2003, the groundbreaking Vanoise Express gondola linked the area to Les Arcs carrying 200 people from Montchavin-Les Coches to Peisey in Les Arcs.
The villages to know are:
Belle Plagne
Plagne Bellecôte
Montchavin
Les Coches
Plagne Soleil
Plagne Village
Plagne Centre
Plagne 1800
Champagny
Aime 2000
Montalbert
Longefoy
Belle Plagne and Plagne Bellecôte
From either of these two villages, Belle Plagne and Plagne Bellecôte, you can get access to the highest part of resort via the Bellecôte gondola, up to the glacier at 3,417m. From here there are a handful of red runs, a couple of blues lower down, and access to lots of off-piste skiing. Midway down the mountain is the top of the Roche de Mio lift which gives you access either directly back down to resort, or you can take the skiers right and end up at the top of the runs in Les Coches and Montchavin.
Montchavin and Les Coches
From the area of Montchavin and Les Coches you'll find access to the Vanoise Express, the large gondola that links across to Peisey and Les Arcs. There are six other lifts here linking lots of blue and red pistes, cross country trails and a few mini freestyle areas.
Plagne Soleil, Plagne Village, Plagne Centre and Plagne 1800
This cluster of villages (Plagne Soleil, Plagne Village, Plagne Centre and Plagne 1800) forms the centre of resort, with numerous lifts and gondolas and just below Plagne 1800 is where you'll find the start of the Olympic Bobsleigh track. There are a fair few green pistes and blue pistes just above Plagne Village that drop you back into Plagne Bellecôte, or you can head up to Les Verdons at 2,500m or the Grande Rochette at 2,505m. Alternatively, drop over the other side of these mountains into Champagny.
Champagny
The village of Champagny sits at 1,250m and has its own gondola and four other lifts linking back up to the central part of La Plagne. Off-piste fans might like to try some of the tree lines on this side, or if you prefer the piste then there are a choice of blue and red runs, plus a slalom area, snowpark zone and freestyle areas. Cross-country skiers can head over to Champagny en Haut.
Aime 2000
Aime La Plagne or Aime 2000 stands out with its angular buildings jutting out of the ridgeline at 2,000m. You can circumnavigate Aime 2000 on a red run and then join the blue piste down to the bottom of the Bobsleigh track below Plagne 1800. Alternatively, head on down the mountain to one of the lowest parts of resort in Montalbert.
Montalbert and Longefoy
These two villages lie at around 1,200m elevation, with four ski lifts, lots of cross country itineraries, lots of blue pistes and a small freestyle area. The runs are in the trees down here which makes it a good place to be on bad weather days. In 2015, the main Montalbert ski lift was updated, changing it from a chairlift to a bubble-lift, making it much quicker and more comfortable.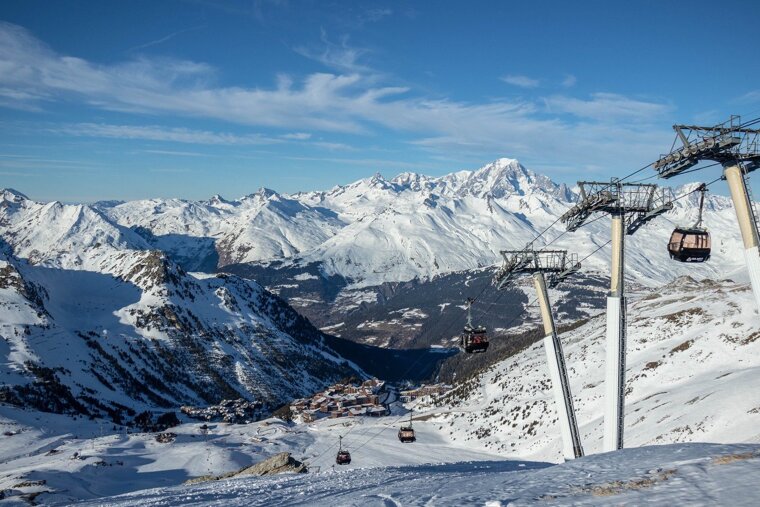 Les Arcs Ski Area
Les Arcs has 200km of piste, a high point of 3,226m and excellent snow-making facilities that guarantee back-to-resort skiing all season long (see the piste maps). A haven for intermediate skiers with a total of 128 pistes including 64 blue and 44 red pistes. There are also three green pistes and 17 black pistes, all accessed by 54 ski lifts.
The area is split into the following resort villages:
Arcs 1600
The Arcs 1600 area faces south-west and provides extensive tree-lined skiing enabling descents to the unspoilt villages below resort level. It's an "all weather" ski area that holds the snow well, and the abundance of artificial snowmaking machines means you are virtually guaranteed to be able to ski back to the village.
Arc 1800
Arc 1800 sits around the tree line and is surrounded by wide, sunny, pistes that offer plenty of room for those on their first week. 90% of the runs into resort are graded blue, making it a great base for beginners and intermediates. It is best to try to avoid the bottom of the Maïtaz, Villards and Charmettoger runs where they converge at the Transarc gondola; this is usually teeming with people and, as it can get very icy, can catch out even the best of us, so try to use the mid-station point of the Transarc to get up and over to 2,000m.
Arc 2000
Arc 2000 is more suitable for intermediate to expert skiers as the runs here tend to be more reds and blacks. More advanced skiers will love the challenging runs off the Aiguille Rouge glacier where you will also find the longest run in resort, at 7km long with 2,100m of vertical drop!
Arc 1950
The area known as Arc 1950 is the more recently built neighbour to Arc 2000, so it also gives you swift and easy access to the more challenging runs in the area. Built by Intrawest (who also built Whistler in Canada), with convenience in mind, you can ski right back to the heart of the resort and step out your skis at the door.
Peisey-Vallandry
Peisey-Vallandry has many beautiful tree-lined pistes which are perfect for beginners. Despite being the gateway to La Plagne (via the Vanoise Express), this tends to be the quieter side of the valley. There is a good mixture of blue and red runs in this sector, allowing you to choose your difficulty at the top of practically every lift. There are some wide-open pistes higher up, but if you like to ski between the trees then this is the place to do it. When the snow has dumped, the slopes around Peisey-Vallandry can seem almost heavenly.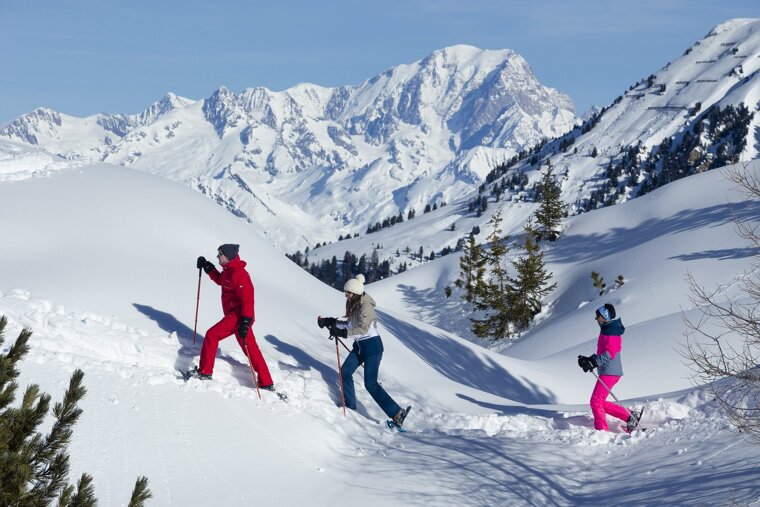 When is the ski area open in La Plagne?
The winter season usually runs from mid-December to mid-April, with any early lift openings depending on snow conditions (check Ski Lift Opening Dates for this winter's schedule). Your holiday will be very much determined by the weather and snow conditions, and therefore the time of year you choose to visit is important. If it's sunny pistes and a cold glass of wine on a mountain restaurant terrace, come in March or April. If your perfect ski break is about quiet slopes and lots of fresh snow, then January is the time to come. Or if you want numerous activities organised for your children during their school holidays, February is for you.
Whenever you choose to come, as long as the lifts are open, the local pisteurs will make the best of the snow (real and/or artificial), and groom the pistes to perfection so that you get the best possible conditions.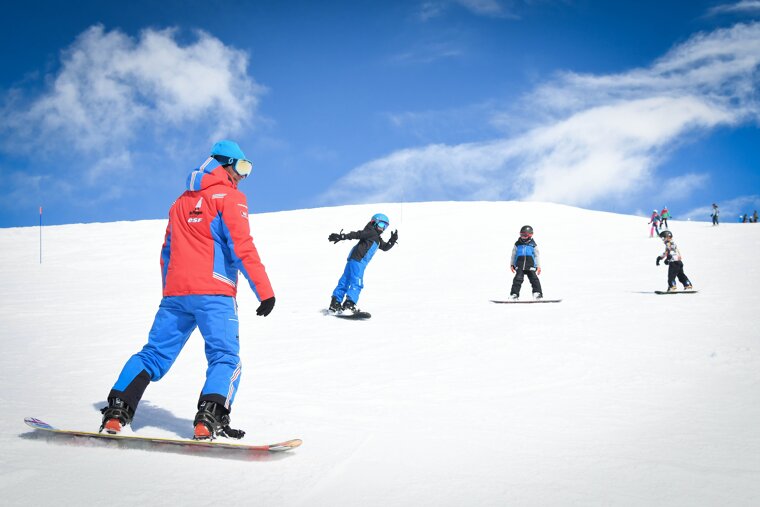 Beginner areas in Plagne 1800
La Plagne is predominantly known for its suitability for beginners. There is a wide choice of green and blue runs throughout the different sectors of the resort. With nine greens and 67 blues that make up the total of 128 pistes in the resort, La Plagne is a great place to learn to ski or snowboard.
Plagne Centre
The beginners Zone Débutant have been vastly improved recently and are great for those starting off skiing or boarding. The Colorado lift has been moved to make access to the zone much easier for the beginner skier or boarder and a magic carpet lift has replaced the old drag lifts. The 'debutant' area in Plagne Centre is long enough for a beginner to get up to a good level making them comfortable and confident before venturing further up the mountain.
Plagne Villages and Aime La Plagne
There are some small learner areas here that are designated for the beginner. Find all these areas on the piste map by looking for the yellow shaded areas or areas marked 'zone debutants'. Both have a host of rolling easy blues, that although aren't great for the beginner starting off they are perfect for those who have built up more confidence and feel ready to head a bit higher up the mountain.
Montchavin/Les Coches
More of an intermediate area, but it does offer something for beginners with five free lifts including a couple of learner drag lifts that are easy to get to situated just above the village. The short and gentle pistes are perfect to practise your turns and for building up confidence.
Plagne Bellecôte
The main sector that is the best for beginners or those of you that just want to take it easy is here. The number of blue runs running into this area outnumbers any other, and their gradient is gentle and rolling. There is also a large 'debutant' area with a magic carpet next to the Arpette chair lift that serves four wide rolling blue runs, on which you could spend all day improving your technique once you feel confident enough.
Advanced areas in Plagne 1800
The Paradiski area offers a large selection of off-piste lines and difficult pistes for the more advanced skier or snowboarder, as you'd expect from one of Europe's largest ski areas. And even though La Plagne has a reputation for being a slightly easier resort in terms of piste skiing, there is plenty to keep an advanced skier occupied.
Bellecôte
The first place to go if conditions allow is the Glacier de la Chiaupe or the Bellecôte glacier as it is more commonly known. There are a couple of great blacks up there, Le Rochu and the Bellecôte, that are definitely worth trying in any snow conditions.
The mogul field at the top of the Traversée chair can be seen from miles away as the moguls are that big, the field itself is also about 200m long – a real leg burner and challenge for the advanced skier. If you like the bumps and feeling the burn there is a piste called Ski des Bosses which means 'ski the moguls' and it is always in great condition, there are also big bumps and moguls to be found on the Verdon Sud.
Aime La Plagne
Another good area for advanced skiers is just above Aime La Plagne at Le Biolley 2,350m. There are several different blacks (Les Étroits, Morbleu, Les Coqs and Plsembleu) with Les Étroits being the longest and the most challenging of the selection. If you were to get Les Étroits and the Morbleu first tracks you may find yourself walking out at the bottom as they both come out on a track that follows the river along the valley floor to the Adrets chair.
Montchavin/Les Coches
There are also a couple of short blacks in Montchavin/Les Coches which a steep gradient to play on. Off the back of the Grand Rochette and Les Verdons there are plenty of steeps to enjoy and again there is easily accessible off-piste when the snow is deep. There are 16 black runs in the La Plagne resort, but with the whole connecting Paradiski ski area you can head to Les Arcs and discover some more of the advanced skiing there as well.
Snowparks in Plagne 1800
La Plagne is a great place to go if you are a freestyle skier or snowboarder, there are three snowparks.
Belle Plagne
The Small Park - accessible from the top of the Col de Forcle lift, this area has been built with novices in mind.
Plagne Centre
The Big Park - a whopping 1km long snowpark which caters for people of all abilities. The resort has a big freestyle ski scene so the park is shaped with skiers in mind, but that's not to stop the boarders having a go too. You will find different sized jumps graded in the same way as the pistes, and as you can imagine green is the easiest and black is the hardest - those jumps are big! Once the jumps are out of the way the park splits in two and each branch has a selection of rails and boxes and one also has a wall ride. Unfortunately, there is no drag lift for the park so you must use the Colorado chair from Plagne Centre. There are often small competitions in the park for everyone to join in and have a go, mostly on a Friday afternoon. There is also a picnic area where you can eat your lunch whilst watching people throw themselves off the jumps or you can just listen to the music in the sun.
Plagne Bellcôte
Here there is a half pipe which is also open to all. There is a chairlift called the Blanchets right next to the pipe which can be used to access it.
Starting from the top of the Arpette chairlift you'll find a new Fun Slope zone, which includes a number of snow features similar to a boardercross and slopestyle course, which is the longest of its kind in Europe. It features jumps, rails, banked turns, rollers and one awesome spiral turn into a tunnel.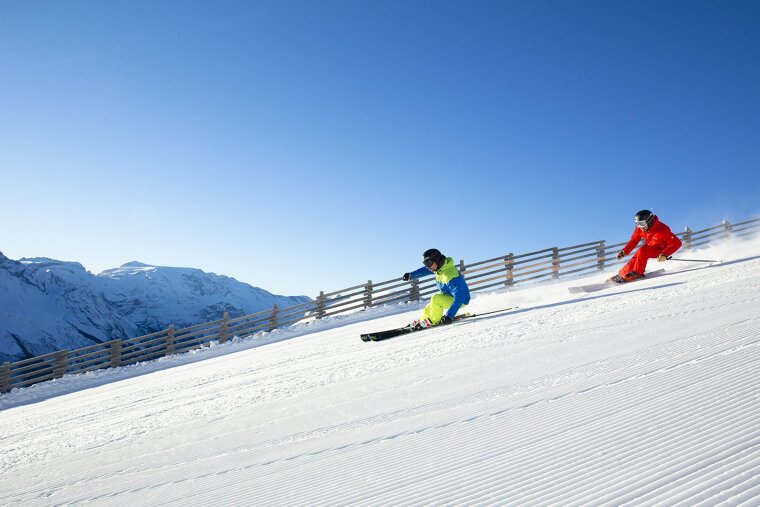 Best pistes in Plagne 1800
Whether you're into mogul fields, steep descents, quiet tree-lined pistes with great snow or just somewhere to rediscover your ski-legs, there is a piste in La Plagne just for you.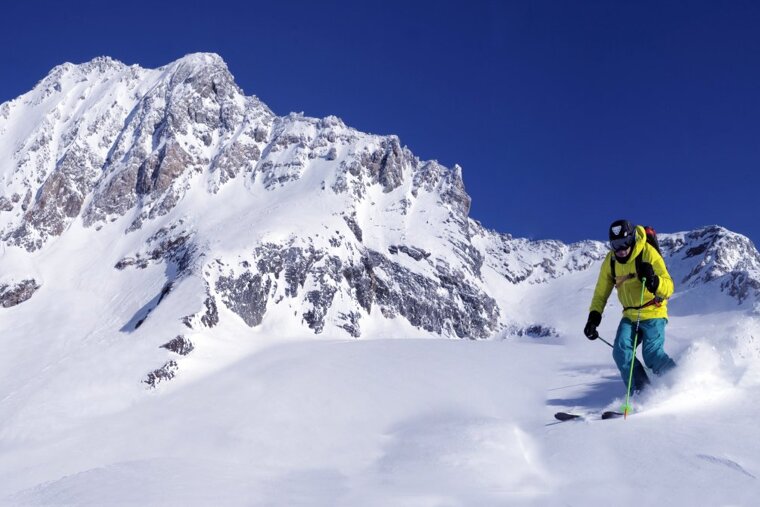 Off-piste areas in Plagne 1800
La Plagne has a very good reputation for off-piste skiing, and takes a surprisingly long time to become tracked out unlike many Alpine resorts including La Plagne's neighbour, Les Arcs. The resort is spread over such a large area, that much of it is untouched by lift systems resulting in even more fresh powder, and the smaller villages are good places to head for fresh snow.
Belle Plagne/Plagne Bellecôte
The main area, of course, is the glacier. The most famous runs are on the north face and there are many off-piste routes to choose from. The 'Petit Face Nord' is the easiest and most accessible as it's a pretty simple traverse from the Traversée chair. The 'Couloir Canadian' is the next step up and involves a hike up.
Champagny
The Verdons Sud side of the Grand Rochette is a big open face that has an amazing formation and a fun terrain.
Montchavin/Les Coches
Many runs through the trees, also perfect on bad weather days. Big open bowls sit in between the Dos Rond and the Mont St Jacques. Up here there is an amazing route through the trees from the Mont St Jacques all the way to the bottom of the Olympic Bobsleigh run below Plagne 1800.
For beginner powder hounds there is a nice gentle off-piste run that follows the blue Les Bauches down from the top of the Dos Rond.
Vallandry, Les Arcs
The best place to see the north face is from above Vallandry, Les Arcs where you can see the difficulty increasing just by looking from right to left. Parts are very steep and very large avalanches are common, so a guide is definitely needed for all runs on the glacier as with most off-piste.
Always make sure you are prepared before embarking on any off-piste skiing or snowboarding. Check out our Avalanche Safety guide. It's always advisable to hire an off-piste guide who will have extensive knowledge of the area and the mountains.
Bad Weather areas in Plagne 1800
There are certain runs that offer more contrast, providing vast amounts of skiing/snowboarding when the flakes are falling. The trick is to head for the pistes that are tree-lined; the trees help provide definition when everything else seems to be white.
When the clouds come in and the light turns flat it can be hard to know where to ski and what to do. The high, open pistes can lack the contrast required for orientation during whiteout conditions and slope and sky can blur into one.
In La Plagne Montalbert you will find lots of trees lining the pistes making it the perfect place to go out skiing when the weather has closed in. Take the nice and easy gentle blues that cut through the trees making it easy to see the pistes. As it is slightly lower you might even be lucky and avoid the high cloud that is causing the bad weather.
Keep in mind that the valley itself can be covered in an all-encompassing fog, but the top of the mountains can be bathed in glorious sunshine (check out the webcams to make sure you are not missing out on anything!). Also, if it's lashing down with rain in the valley, it means it's snowing up top, giving you the best and freshest powder you're likely to ski on, and because it's a bad weather day, chances are, you'll have the mountain to yourself!
More inspiration...
Take a look at this year's Ski Pass Prices or, if you're not sure which pass to buy.