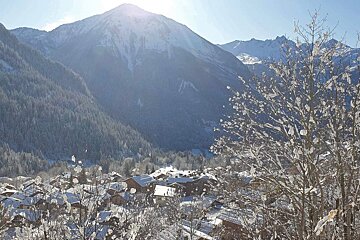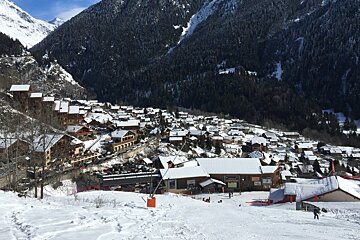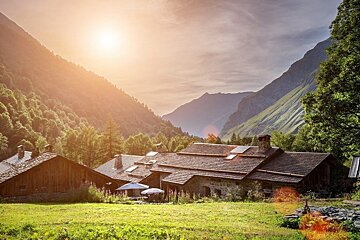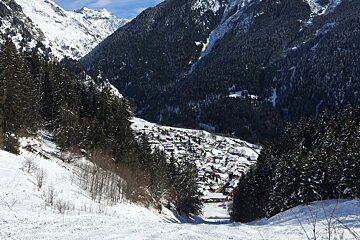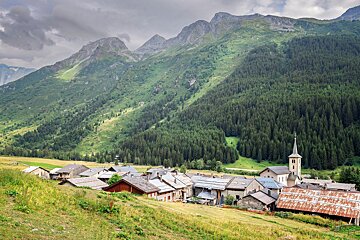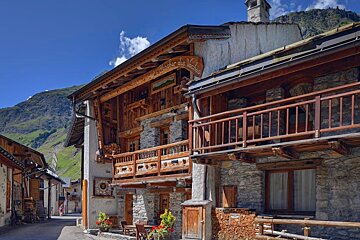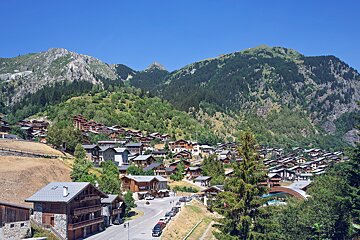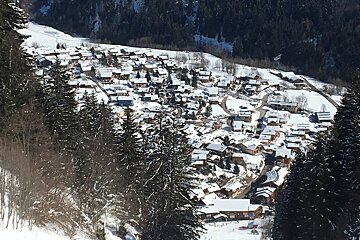 Champagny en Vanoise
A secluded & peaceful village close to the Vanoise National Park
Champagny-en-Vanoise is one of the Alp's best-kept secrets, once a rustic farming village it has seamlessly grown and expanded to become a thriving alpine town populated year-round and offering a breathtaking holiday spot in winter or summer.
Champagny has all the amenities you require including grocery shops, bakery, deli, small souvenir and clothing stores, several sports shops, ski hire and service outlets and a cinema with regular English language screenings. There are several ski school options available and an independent childcare centre.
Champagny is a great spot for all standards of skiers, the cable car disembarks amidst a plethora of blues perfect for intermediates, there are many red runs some of which are extremely challenging, several blacks including un-pisted trails and also a boardercross course. There is a beginner area including a snow garden at the top of the cable car and this is also where ski schools meet to begin lessons. All these exceptional off-piste areas are accessible using the 'village sector' ski pass for Champagny-en-Vanoise. For those carrying the La Plagne or Paradiski pass Plagne Centre is one chair and two runs away from the top of the cable car, if you're after a real leg stretcher you can take three lifts to Bellecôte and from there race down to the Vanoise express over to Les Arcs, well worth a day trip but you have to be aware of your timing as its a long way and a lot of lifts back to Champagny at the end of the day.
To return to Champagny you can get the cable car down or there are two ski runs back, but please note that they are both very long technical reds so if you're not competent be sure to take the lift. If you can ski them however do so, Mont de la Guerre is an incredible run, one of the best in resort and Le Bois, shorter but more technical is serviced by snow cannons to keep it open as late in the season as possible. The southern slopes of the resort are beautiful but they are naturally the first ones to begin to melt, and whilst the mountain staff do their best to keep Champagny accessible, the two runs right down to the town can be beyond their help so they ensure that the runs to and from the top of the cable car are well-groomed and enjoy great coverage until the end.
Champagny is an accessible yet off the beaten track spot for a holiday, secluded and peaceful, with access to all manner of activities and adventures your holiday here can be as relaxing or adrenaline-fuelled as you like.
Things to do in [locality]
A five-minute drive away is the tiny village of Champagny le Haut, the gateway to the Vanoise national park and the place to go for exceptional Nordic skiing, snowshoeing and – unique within Europe – ice climbing tower. Twenty minutes drive will find you at Courchevel ski resort, an easy drive further on is Tignes and Val D'Isere, making Champagny a great base from which to explore other Alps resorts.
Dining in [locality]
The centre of the village is packed with eateries, creperies and pizzerias for quick lunch stops and takeaways, and restaurants with full menus of Savoyard specialities.
Nightlife in [locality]
The nightlife in Champagny is by no means excessive but there are a few bars dotted around and even nightclub Le Galaxy to keep your party going till the early hours.
Where to stay in [locality]
The town exudes character and accommodation comes in a beautiful array of chalets, cottages, apartments and converted farmhouses. One of the best things about Champagny is that it is relatively unknown and as such has been left alone by the large tour operators so you will generally find yourself looking at private rentals and independent hotels.
Directions
La Plagne's southernmost and lowest altitude village, Champagny, nestles in a sunny spot at 1,250m and has a modern, efficient cable car that whisks passengers up to the heart of La Plagne's south-facing runs in a mere eight minutes, from where skiers have access to the entire La Plagne and Paradiski ski areas.
Please note that once the cable car closes there is no access to the other villages on the mountain, and if you don't live in Champagny do not get stuck there after the lifts close as it is a lengthy and expensive taxi ride back around the mountains to the centre of resort.
Location