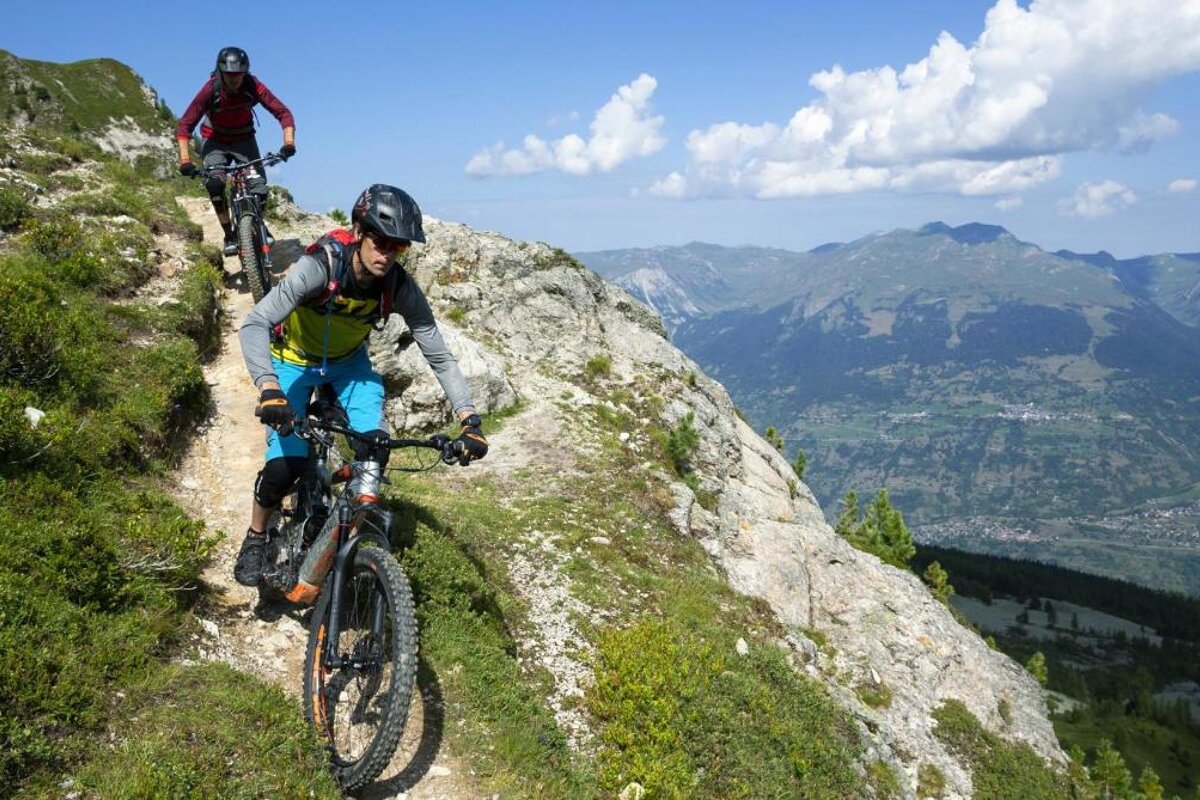 Why La Plagne is great in summer
A perfect holiday destination any time of year
For mountain lovers, summer can be a long, drawn-out affair. Not only has the snow disappeared but our beloved peaks seem a far-distant, impenetrable memory. However, there is a solution – so long as you're willing to take the plunge and try a summer holiday in the mountains.
Most ski resorts (La Plagne included) have a lot to offer through the summer months, way beyond their typical winter operations. As you'd expect from a destination geared towards the outdoors and an active lifestyle, La Plagne has a huge range of adrenaline-filled activities to keep you busy on a summer trip.
There are many reasons why La Plagne makes a great summer destination and the below is just a small smattering of the sports and activities available. If the thought of a passive beach holiday gives you the fear, you may well find summer in the mountains injects a much-needed adrenaline boost to see you through until the snow returns. Unfortunately, the summer ski glacier area here retreated a long time ago so riding is no longer possible but there are many, many other high-octane pursuits available. And, anyway, if you find yourself really, really desperate to go riding the Tignes glacier is just a two-hour drive away.
So, if you're the sort of person who's drawn to the wide-open landscapes and fresh air the mountains offer, here are a few reasons why a trip to La Plagne this summer might just be the holiday for you.
Transformed landscapes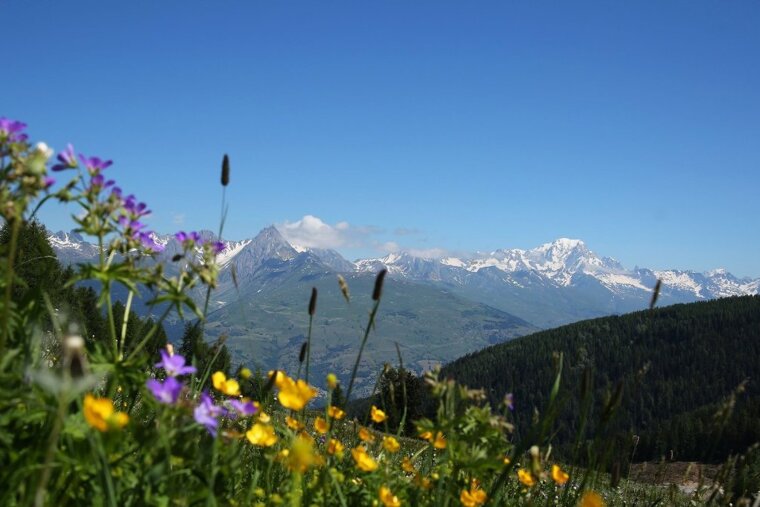 There is something truly amazing about visiting a ski area you know well in winter guise only to see it in summer mode. Runs which you raced down in winter transform into gentle slopes and walking trails. Personally, I find it really surprising seeing how different the mountains look wearing their summer coat. The lush green plains contrast with the steep mountainsides and provide an exhilarating backdrop to the multitude of activities going on in and around resort.
Summer temperatures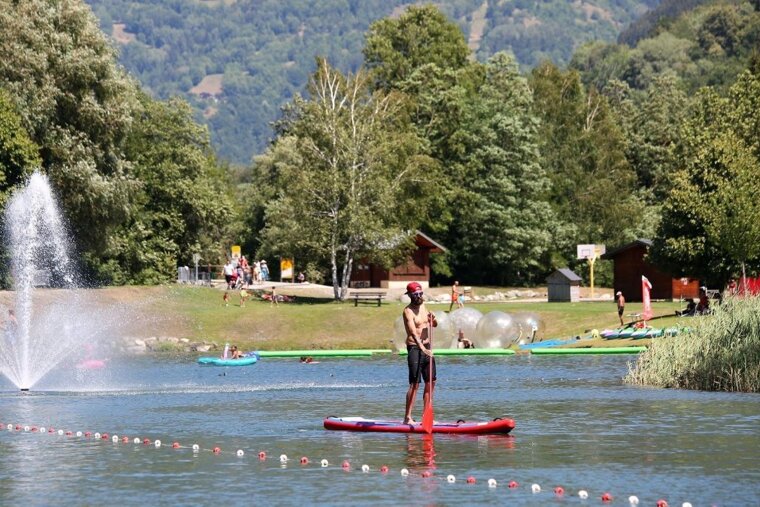 Don't be under any illusions, even though you're at considerable altitude, ski resort temperatures get seriously warm in summer. Even in late spring, it's not uncommon to experience more than 20ºC and temperatures continue to increase through the summer. Do bear in mind that it can get mighty cold at night, though, and pack accordingly. Still, what other holiday can you think of where you could be in shorts and t-shirt during the day, then a fleece or winter jacket at night.
Mountain biking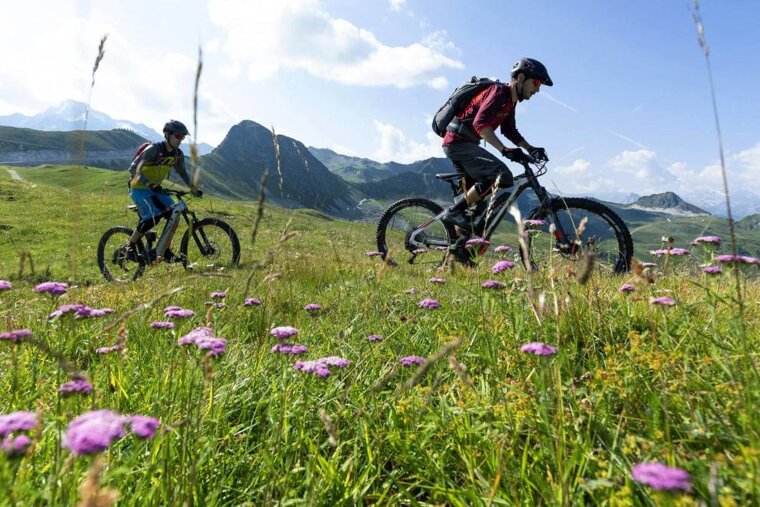 Unlike its neighbour, Les Arcs, the trails in La Plagne are much less about downhill steeps and instead more aimed at mountain bike touring. If you're relatively new to the sport, the resort offers the perfect terrain to cut your teeth and prepare yourself for tougher downhill descents while still enjoying the beauty and splendor of the mountains. If speed and tricks are more your thing, there is a dedicated bike park above Plagne Bellecôte/Plagne Centre with a total of eight trails – two greens, four blues, two reds and a black. The trails are served by the Colosses and Colorado chairs out of Bellecôte and Centre respectively. There's also E-mountain biking on offer in Plagne Centre, Montalbert and Bellecôte. And, should you somehow tire of all that and fancy trying something completely different, you'll also find a testing pump track in Bellecôte.
Via Ferrata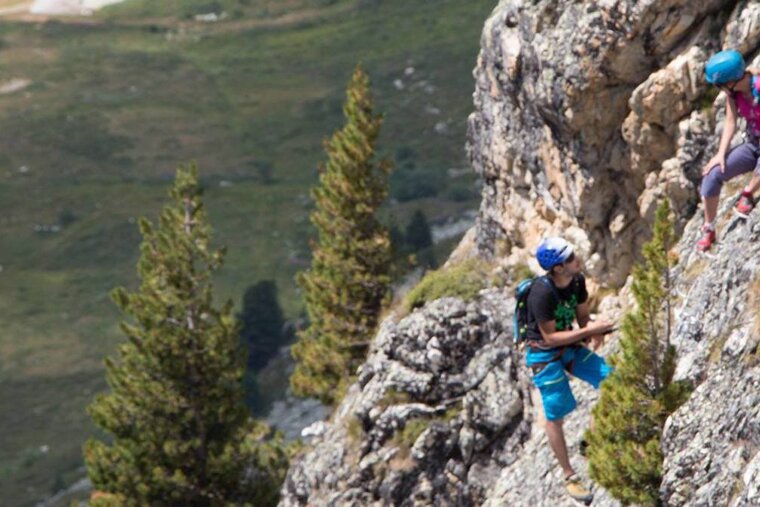 Via Ferrata are secured climbing itineraries equipped with metal supports to ensure the protection of the users – in essence, a safe introduction to mountain climbing. La Plagne has three via ferrata courses open during the summer months: one above Belle Plagne (graded easy) and another two above Champagny-en-Vanoise. The first of the Champagny trails is rated as difficult or easy (depending on the route you take) while the other is graded extremely difficult, ie you'll need significant climbing experience. Access is free, however, you do need a harness and mountain helmet.
Zipwires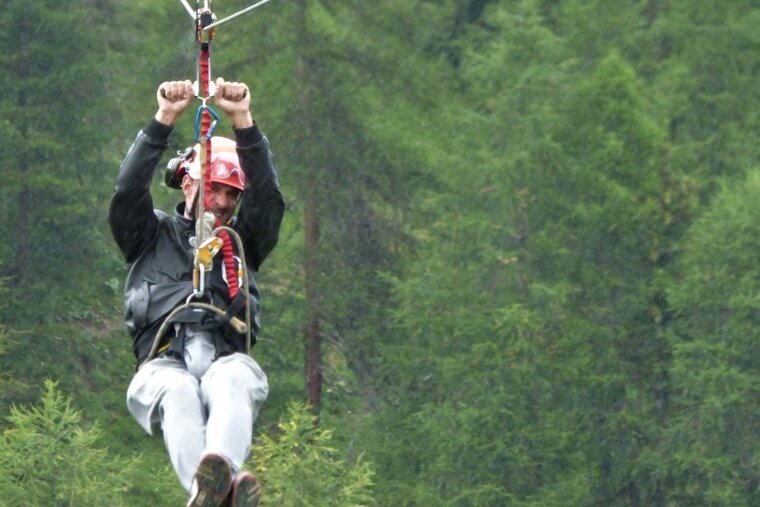 La Plagne has two zipwire experiences, each tailored to different sensations. The Super Tyro in Plagne Centre reaches speeds up to 90km/h over a 140m ravine. At a gradient of 16%, it is twice as steep as most normal ziplines. It comes highly recommended (this writer did it last season – see the review here). The second zipwire is located next to Belle Plagne on a 2km track through the trees. There are a total of 10 zipwires on this course ranging from 50-110m in length at a maximum of 45m off the ground. For an extra (now-ruined) surprise, the course terminates with a 9m base jump.
Mountain Kart and Déval'Kart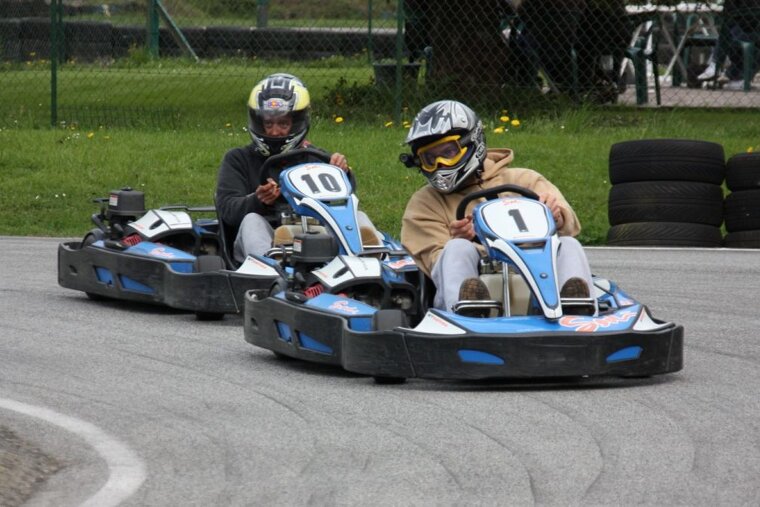 There are two types of karting experience available in La Plagne during the summer months – mountain kart and déval'kart. If you thought these were one and the same, it seems there are actually differences between the two – apparently, Déval karts are three-wheeled karts whereas mountain karts have four wheels and a hydraulic braking system on the steering wheel. You live, you learn, eh! Mountain karting is available in Bellecôte while the Déval karting takes place in Montalbert.
Watersports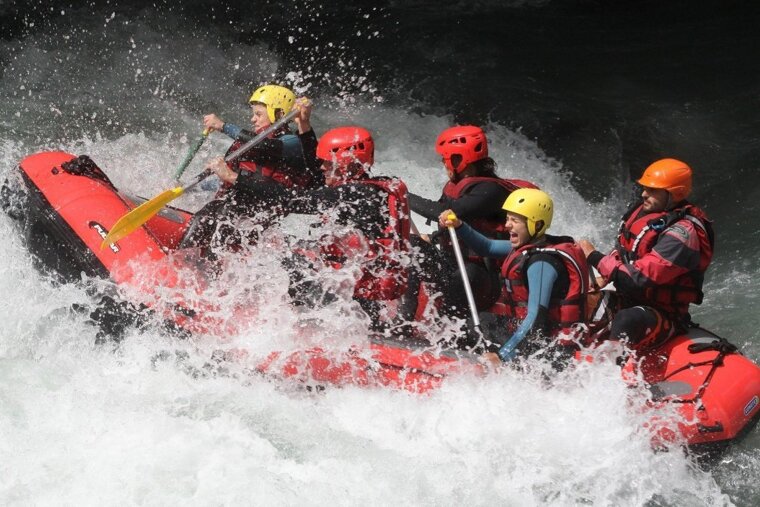 With the summer snow-melt, the Isère river in the valley below La Plagne becomes a raging torrent and offers the chance to try various white water experiences including rafting, kayaking, canoeing, hydrospeed and other combination sports. The flow of the Isère is largely controlled much further up the mountain at the hydro-electric dam below Tignes but, even then, the rapids here are amongst the best in the world. Indeed, the river played host to the world canoe-kayak championships in 2004. Various excursions are possible but our recommendation would be the 22km route between Bourg St Maurice and Centron. This itinerary offers a huge variety of white water tests including the Aime rapids, Pucelle Gorge, Virgin's Gorge and Centron rapids and at various sections ranges between II and IV on the European difficulty scale. This is definitely an experience best suited to the adrenaline-junkies.
Walking, hiking & trail running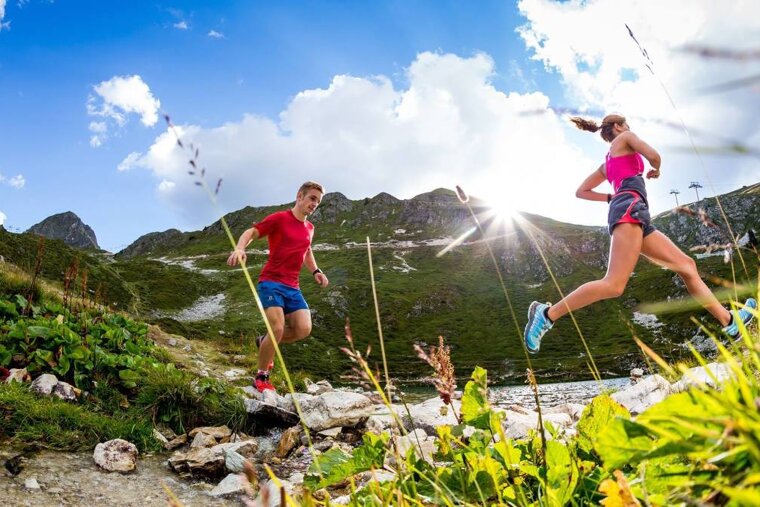 As the snow retreats, La Plagne's ski area transforms with routes you'd normally recognize as pistes suddenly becoming walking and hiking trails. There are literally hundreds of options for making your way around the mountain from the forested glades of Montchavin and Montalbert at 1250m right up to the lofty heights of the glacier at 3250m. In addition to the extensive walking trails, the resort has also invested heavily in dedicated trail running tracks. In total there are 19 trails to choose from with varying difficulty ratings – easy (four), medium (four), difficult (four), very difficult (five) as well as two straight climbs. La Plagne will also host the 30th 6000D competition between July 26th and 28th if you fancy taking part in one of the most esteemed trail running events in the world.
Sightseeing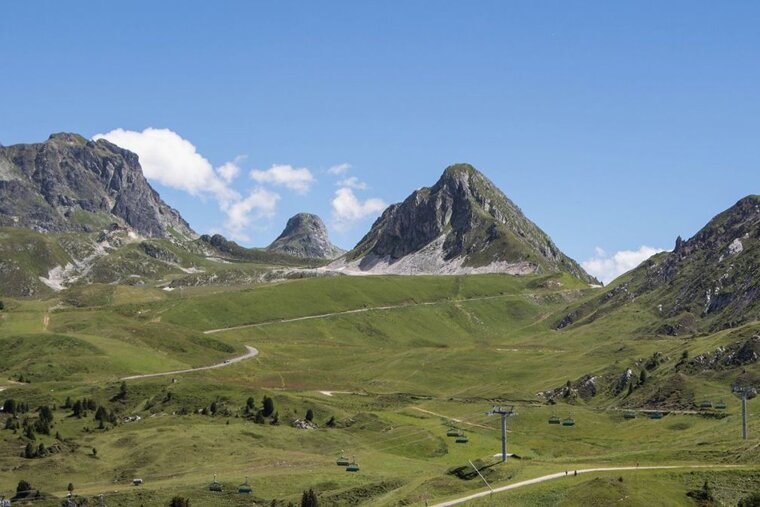 Obviously, running up mountains isn't for everyone and a lot of people prefer a more leisurely pace so La Plagne reopens many of its main lifts through the summer to give pedestrian access to the summits. The Funiplagne, Roche de Mio and Bellecôte glacier gondolas run every day (weather permitting), accessing the highest reaches of the area and allowing even non-hiking types the chance to ascend to altitude and take in the breathtaking views over the Isère valley, Mont Blanc, Les Arcs and Les Trois Vallées.
Stuart Hamilton is the Creative Director of Snow-Guru, Snowboard-App and Ski-App - a range of Android skiing and snowboarding apps aimed at improving your time in the mountains. He also runs iRide Ski and Snowboard app, available for both Apple iOS and Android.
More inspiration...
A summer holiday in the mountains is definitely worth trying at least once. You may well be surprised by just how much is going on and might even find yourself trying and taking up new sports you'd never dreamed of doing. Plus you'll see the hill in a whole different way come winter. Give it a try and see what you think. You'll certainly have more interesting holiday pictures than most.
Location
La Plagne - 1800, La Plagne