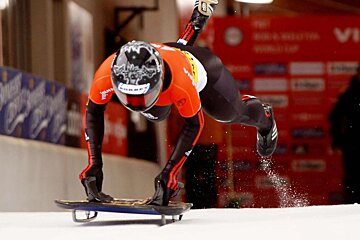 © Presse La Plagne/Rodrigue Mériaux
Bobsleigh and skeleton world cup
World class level competition in these two exciting sports
La Plagne is set to welcome the best bobsleigh and skeleton athletes from across the globe as the world cup slides into town.
La Plagne's bobsleigh track was built for the 1992 Olympic Games and it has hosted a multitude of international competitions and welcomed tens of thousands of visitors over the years.
The programme for this stage of the competition is as follows:
4 and 6 December: skeleton training
5 and 7 December: bobsleigh training
8 December: Men's and women's skeleton
9 December: Two-man bobsleigh and women's monobob
10 December: Four-man and two-women bobsleigh
The track is open to the public every winter for bobsleigh, luge and skeleton rides.
Watch this
Venue
La Plagne bobsleigh track
Location