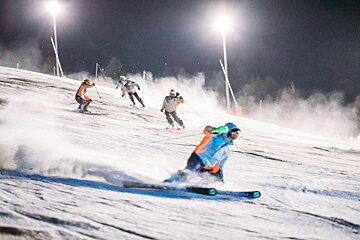 © Club des Sports La Plagne
February in La Plagne: What's on and weather
A busy time in the resort coinciding with some great skiing conditions
It's the school holidays and the resort is full to the brim with families.
With the school holidays in full force, on the slopes and throughout town it's buzzing with activity. La Plagne lays on plenty of entertainment, with regular events and parties going on in the bars, hotels and clubs around town.
Read on for a look at what we like to do in resort throughout February.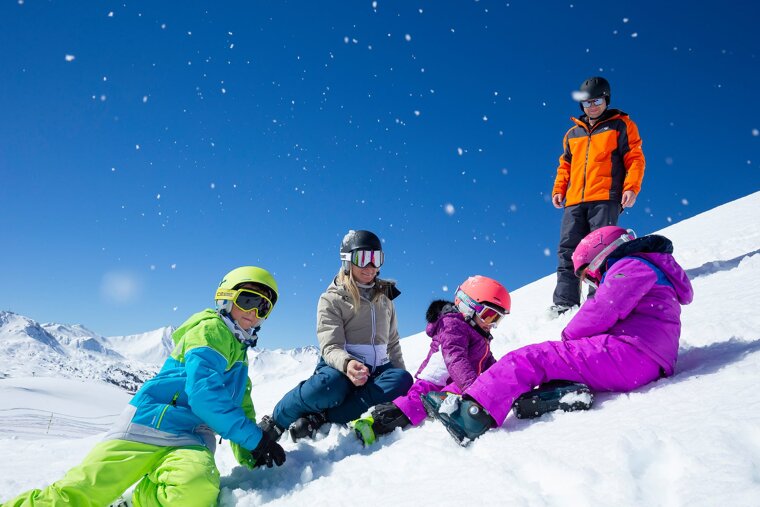 What are the weather and snow conditions like?
There is still regular snowfall and very much like January the average daily temperatures generally fall between a high of -3ºC and a low of -12ºC, with around just over five hours of sunshine. You can usually expect fairly mixed weather – fresh snow intermingled with often sunny days, but it's still very much a time for wearing a thermal under-layer.
February almost always sees fresh snow – and often in considerable quantities too, averaging 12 days over the month – so it's a very good time to take a trip out here if you're looking for that 'best of both worlds' scenario.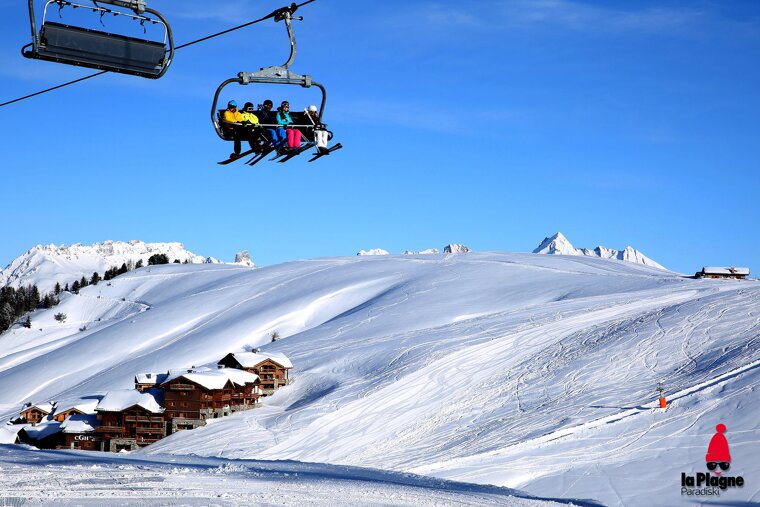 What's on in La Plagne in February?
In terms of activities and events through February, it's really all about the Born to be Show, however, there are also another couple of things going on.
Born To Be Show
Along with the Super Slalom, the Born To Be Show is probably the biggest annual event in La Plagne's calendar – a celebration of the resort's Club des Sports and its athletes (many of whom have medalled at Olympic and world-class level). The show tends to feature ski and snowboard demonstrations by the area's up-and-coming young sports stars as well as some of its more established competitors. Previous years have seen attendances from Marie Martinod, Brice Roger and snowboard superstar Tess Ledeux (two-time X Games Big Air gold medalist) to name but a few. Appearances are largely dictated by the athletes' availability so the list varies year to year but you can definitely expect to see some of the bigger names.
There is also a prize draw to win a car, as well as the obligatory fireworks show to close-off the evening. If you're in resort, it's well worth attending – though be warned, unless you're staying directly in Plagne Centre, getting back to the other villages once the show is done can take forever. You're well-advised to consider leaving as promptly as possible (or early) to avoid delays.
Valentine's Day
For this 14 February, take your pick - La Plagne is full of great gourmet options. If you are after some entertainment while you eat, many places will put on live music, or you could head out after your dinner. Our personal recommendation would be an early Fondue Bourguignonne in the Panoramic Restaurant at Aime 2000, with spectacular views across to a setting sun on Mont Blanc. Alternatively, you could go for a night spent under the stars in the Over the Moon experience – a full evening on the mountain in a luxuriously converted piste-bashing machine complete with panoramic roof window, Jacuzzi, queen-size bed, wi-fi and mini-bar. The slogan, "What happens at 2,000m, stays at 2,000m" should be more than enough to inspire you.
Grand Bec Nordic Marathon, Champagny
One of the biggest Nordic skiing events of the year is in February in La Plagne. There are different distance race courses to suit everyone ranging from 1.5km up to 42km. Find out more here and register at the Champagny en Vanoise tourist office.
Rando Challenge de la Plagne
While the predominance of La Plagne's activities is mostly downhill in nature, there is still a huge cross-country and endurance race following across the area. To cater for these hardy enthusiasts, La Plagne organises the annual Rando Challenge – a series of cross-country endurance events held at various locations throughout the season that will see competitors tackle the climb from village level to the top gondola station – a climb of around 800m – in the dark. We did say, 'hardy enthusiasts'. Pretty impressive stuff. The event is open to all so, if this is your kind of thing, you'll find registration details on the homepage of the main La Plagne website. Alternatively, if you're a more sedate type, you can watch the competitors set off from Champagny village.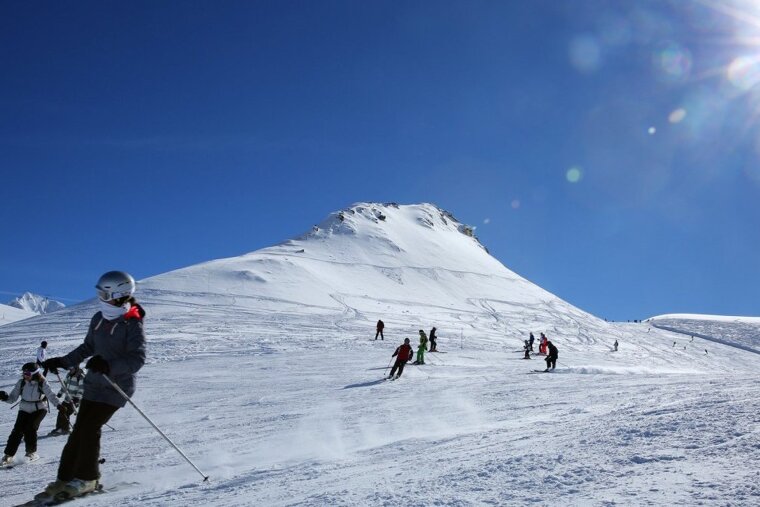 School holiday skiing
February is a popular month for families so the slopes are noticeably busier as soon as the four-week French holidays begin. With so much of the area open, queues will be less of a problem though you're still well-advised to get up and out early to avoid the usual bottlenecks. Fortunately, the ski area is so vast, that even in high season you can find quiet slopes and minimal lift queues. Here are our insider's top tips for the school holidays:
It will be almost impossible to book private lessons over this period, group lessons are the best option. Make sure to get your ski and snowboard lessons booked well in advance to avoid disappointment.
If you're not in ski school, be an early bird. Arrive at the lifts before they open so that you get up and away before the ski school classes set out around 09:15.
Ski over lunchtime. The slopes are calmer between 12:00 and 14:00 while the French take a leisurely lunch break. If you can, stop either side of this two-hour window or, better yet, pack something in your backpack so you can eat on the way up on chairlifts. The lunchtime window really is far too good to miss so find ways to make sure you're on the hill when the rest of France isn't.
Pre-book your lunch and avoid the queues. Some restaurants offer a Click & Collect service. It's the best way to avoid the queues and make the most of your time in the mountains.
Seek out the peripheral areas. Try to avoid the busy main ski areas, in particular the Bellecôte hub of lifts can get agonisingly busy and you'll find similar bottlenecks on the main lifts around Plagne Centre. If you can, try and avoid these areas after 10:00, otherwise, be prepared for a long wait. Other lifts to avoid are the Bergerie below Plagne Soleil and Plagne Villages and the Arpette in Bellecôte. In previous years, these two lifts have jostled for the unenviable crown of the 'Season's Busiest Lift' in the whole of the La Plagne domain. Also, they're both very popular with ski schools so the runs they serve tend to get very congested. In particular, the Écartée (off Bergerie) and Arpette (off the lift of the same name) can get ridiculously busy. In the main, the best advice is to try and head for the lower traffic areas – places like Champagny, Montalbert and, to a degree, Montchavin. You tend to find far fewer people in each, though Montchavin can get busy with the traffic between La Plagne and Les Arcs.
Get off-piste. Competent off-piste skiers can book a local mountain guide and explore the vast off-piste areas in the valley or even go touring to find complete solitude in the backcountry.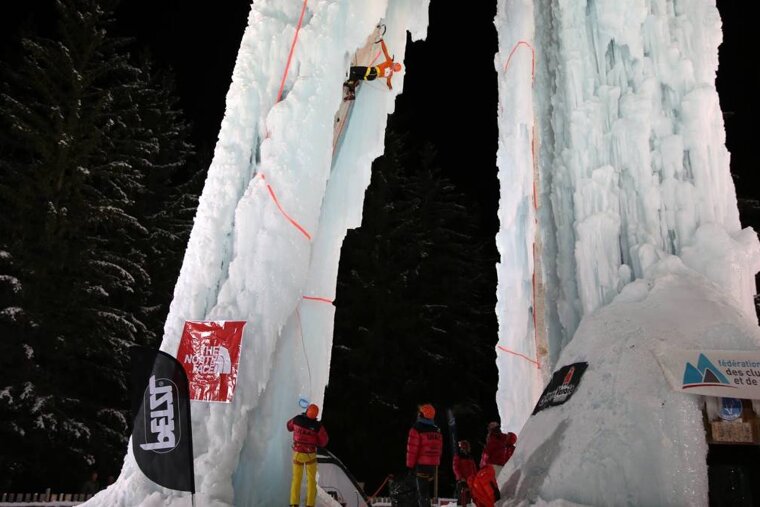 Things to do
Family fun
February is synonymous with school holidays. As hundreds of children and their families descend on the pistes, La Plagne puts on a show for them. There are lots of activities to keep the little ones entertained on and off the mountain. And don't forget to check out the torchlit descent.
Learn to climb some ice
In Champagny le Haut, the ice tower welcomes beginner climbers alongside the sport's elite. The guides will help you and the design means you can make progress quite safely. Contact the tourist office for more information.
Ice skating
There are ice rinks at Montchavin-Les Coches, Plagne Centre and Plagne Bellecote - a great family activity, skate hire available at the rink.
Bobsleigh and Skeleton
La Plagne has previously hosted the Bobsleigh and Skeleton World Cup on its La Plagne bobsleigh track. This is the only course in France, built for the Albertville 1992 Olympics and is one of only a handful of officially recognised bobsleigh courses in the world featuring a stomach-churning 19 turns over a total length of 1.5km. The track winds its way down a steep ravine a little below Plagne 1800 to the base at La Roche. If you're the type that prefers 'to do' rather than to just watch, remember La Plagne offers Bob Raft, Speed Luge and Bob racing experiences, so you can witness the thrill of riding the track first-hand. It's the closest us mere mortals are ever likely to get to doing these thoroughly exhilarating sports.
Alternative winter sports
It doesn't just have to be piste based adventures you take part in. Ski-touring and split-boarding have become extremely popular in recent years, and there's nothing that gets the heart pumping like gaining altitude under your own steam. When it's a 'white out' you'll find us changing tack entirely, pulling on some raquettes (snowshoes) and venturing forth into the wilderness on one of the many snowshoeing routes around the valley, all the while dreaming of tomorrow's bluebird powder day.
Test your slalom skills
Every year in the late season, La Plagne holds officially the longest slalom race in the world, the Super Slalom. In celebration of the event, the organisers have established a new slalom track on part of the official course, near Aime 2000 on the Golf piste. The track is open to all and includes race timing so you can test your skills just like in a real competition. Access is via the Becoin chair or Télémetro if you're coming from the Plagne Centre side or the Roche/Envers chairs if you're coming from the Montalbert side.
Buffalo Park
La Plagne has installed another funslope to compliment the existing one at Arpette above Bellecôte. The new Buffalo Park starts near the Verdons Nord chair and runs below the Colorado chair back into Plagne Centre. Access is free and the track is open daily – great fun for all, young or old.
Check out our links for more ideas of what to do in La Plagne this February.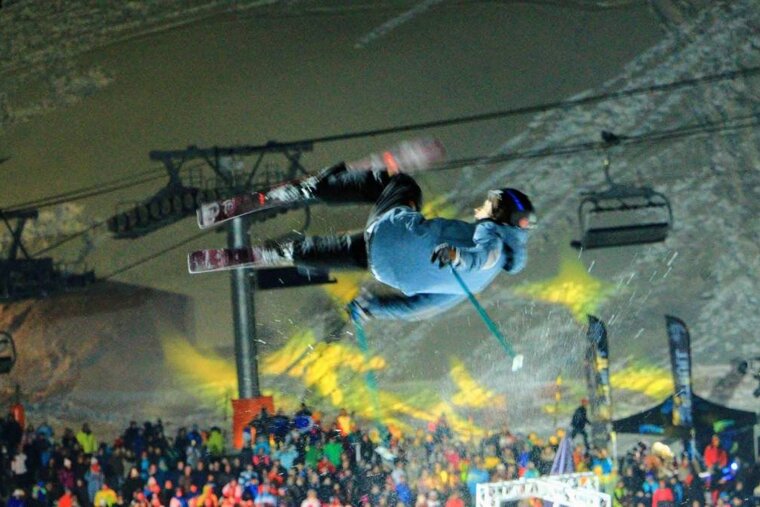 Bars and clubs
If, like most people, you like to follow several hours of exercise with several hours of drinking, you can hit up any of a number of local après-ski sessions. Down at the bottom of the slopes, you'll find a range of eateries and bars offering great music, delicious food and happy hours.
For late-night entertainment, the clubs hold special nights on most days of the week.
More inspiration...
While February is probably the busiest month in La Plagne, there should be more than enough space for everyone. Follow the tips above and you should be able to avoid the worst of the queues and bottlenecks and find yourself riding great snow under often-sunny skies – the perfect mix. Bon ski!