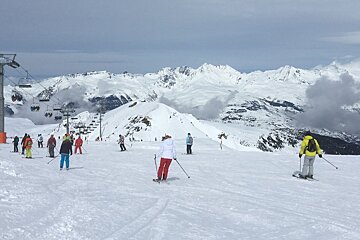 Beginner ski areas in La Plagne
Discover the top La Plagne beginners skiing
La Plagne is well known as a family friendly ski resort and a great place for beginner skiers and snowboarders, thanks to its vast number of beginner friendly pistes.
The resort has six designated nursery or beginner areas (which you can read more about below) 9 green pistes, 67 blue pistes and five free beginner lifts, giving you ample space to practice and develop your skills and confidence.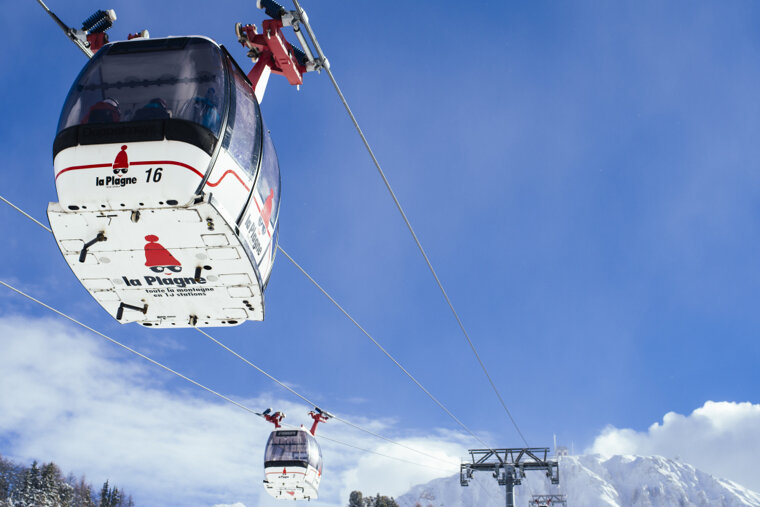 Best beginner areas in La Plagne
La Plagne is a resort which consists of a nine separate villages at different altitudes, each with their own beginner ski zones and areas, giving you plenty of choice as to where to base yourself for your holiday.
Plagne Bellecote / Belle Plagne / Plagne Centre
There are nursery areas or 'Zone Débutants' (with gently sloping gradients and wide open spaces to practise on) in Plagne Bellecote and Belle Plagne and a beginner zone in Plagne Centre, which is great for first-time skiers or snowboarders and is long enough to get a few turns in. You can practise here, making you more comfortable and confident before potentially venturing further up the mountain. The biggest ski area in La Plagne for beginners is Plagne Bellecôte. The number of blue runs running into this area outnumbers any other area and their gradient is gentle and rolling. Next to the 'Débutant' area mentioned above is the the Arpette chairlift, which serves 4 wide rolling blue pistes that you could spend all day on improving your technique.
Plagne Villages / Aime La Plagne
You'll find small beginner ski areas in Plagne Villages and in Aime La Plagne and both of these areas also have around seven rolling easy blue pistes and variations, which are perfect for those who have built up confidence and are ready to progress and are fun to ski.
Montchavin / Les Coches
Montchavin Les Coches is more of an intermediate area but does offer something for beginners too, with five free lifts including a couple of learner drag lifts that are easy to get to, situated just above the village. The short and gentle pistes are perfect to practice your turns and for building up confidence.
Free Beginner Ski Lifts
In Plagne Bellecote and Belle Plagne you will find nursery slopes with magic carpet lifts that don't require a lift pass. These areas are signposted as the beginner area and are sloped at a nice, gentle gradient to help get you started. There are also five free lifts in Montchavin Les Coches for you to use.
You can find all these areas and lifts on the piste maps.
Beginner ski lessons
If you're learning to ski for the first time, La Plagne has plenty of choice of ski schools who teach children's ski lessons and adult's ski lessons. Children's lessons are determined by their age and ability, whilst adult lessons are determined by ability and interests.
Beginner ski passes
If you're joining a ski school as a complete beginner, you will probably start off in the nursery areas where a ski pass isn't needed, making use of the free beginner ski lifts mentioned above or just practising on the slopes without using any lifts at all.
For people in between ski school and those capable of progressing into the full ski area, La Plagne offers a "Cool Ski" pass, which you can buy one day at a time. It's perfect if you've not been on skis in a while, or if this is your first time on skis after ski school and gives you access to designated beginner areas within the ski area, where you can ski safely. Look out for piste signs and easy to use lifts with the Cool Ski Cool logo.
If you're a skier looking to progress into the wider ski area, you can buy a ski pass from as little as 4 hours and you should consider buying a La Plagne only ski pass rather than the Paradiski ski pass (which includes the neighbouring resort of Les Arcs). The La Plagne pass will give you access to 9 green and 67 blue pistes, allowing you to build in confidence as well as allowing you to explore more of the ski area.
Beginner ski hire
Pre-booking your ski hire in advance allows the hire shop to prepare for your arrival and smooths the process. A key thing you should consider when booking your equipment is how close your accommodation is to the ski hire shop, or to the foot of the pistes for when lessons have finished. Even if there are several equipment options to choose from, we recommend you go for the most basic. Beginner skis are short, flexible skis that are easy to turn or, if you're snowboarding, you'll have a shorter stiffer snowboard that's easier to control and generally cheaper too. You won't need to know about the technical aspects of any of the equipment as ski hire shops will advise you to get the best model for your ability and size once you've booked.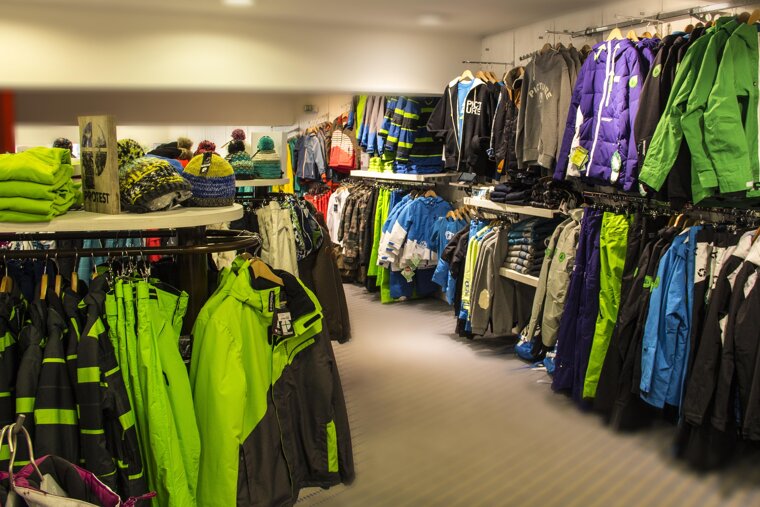 What should I wear when skiing or snowboarding?
Buying all the gear before you go can be daunting if you've never set foot in a ski resort before. The key items to bring with you, along with the obvious ski jacket, ski trousers and sunglasses, are as follows:
Layers - thermal tops and leggings, fleeces, hoodies, hats and a good pair of ski gloves and a helmet. Weather on the mountain can change pretty quickly, and you are much better off wearing layers of thinner items as opposed to a big, bulky jumper.
Socks - a variety of socks ranging in thickness, it may sound weird but in our experience hire boots can be quite painful with the wrong socks.
Sun cream - even when it's cloudy the sun here can (and will) still get you, and don't forget the underneath of your chin as the sun reflects off the snow too. Don't forget a lip salve with an SPF.
Piste map - make sure to always have one in your pocket while you're out on the mountain. You can pick up paper copies from the lift pass or tourist office once you've arrived in resort.