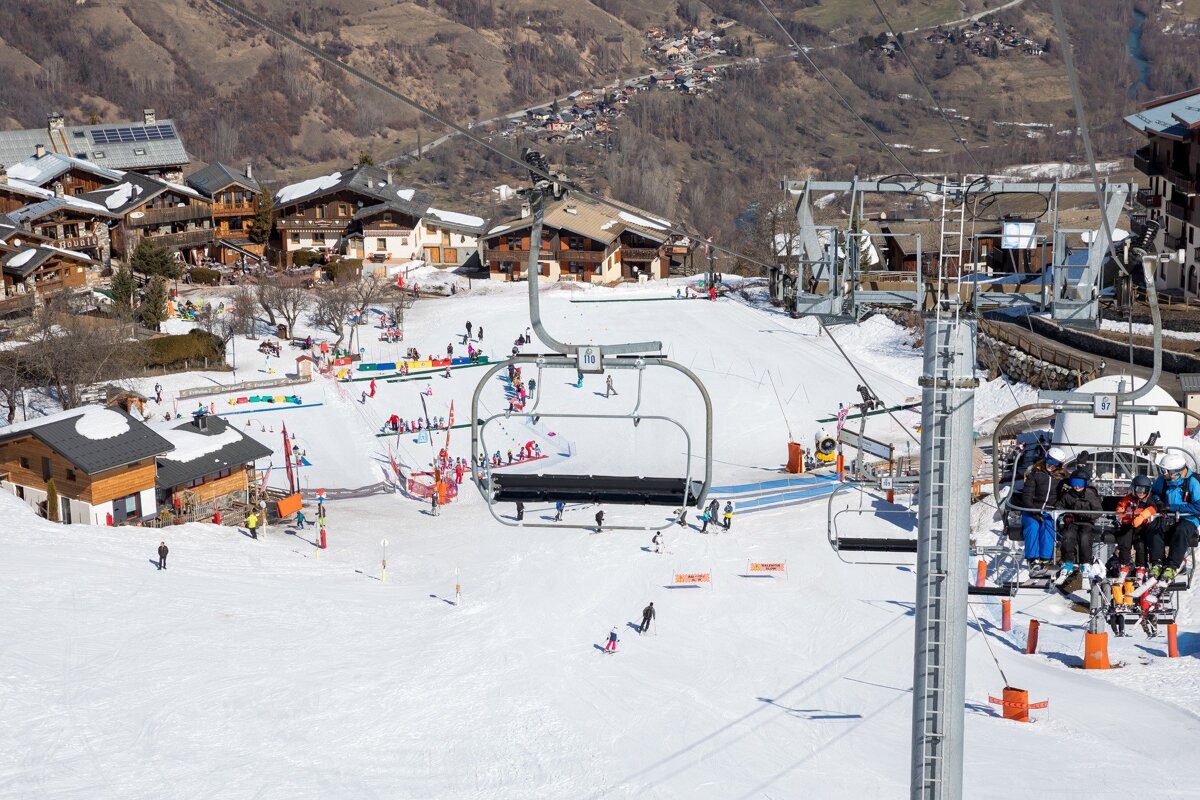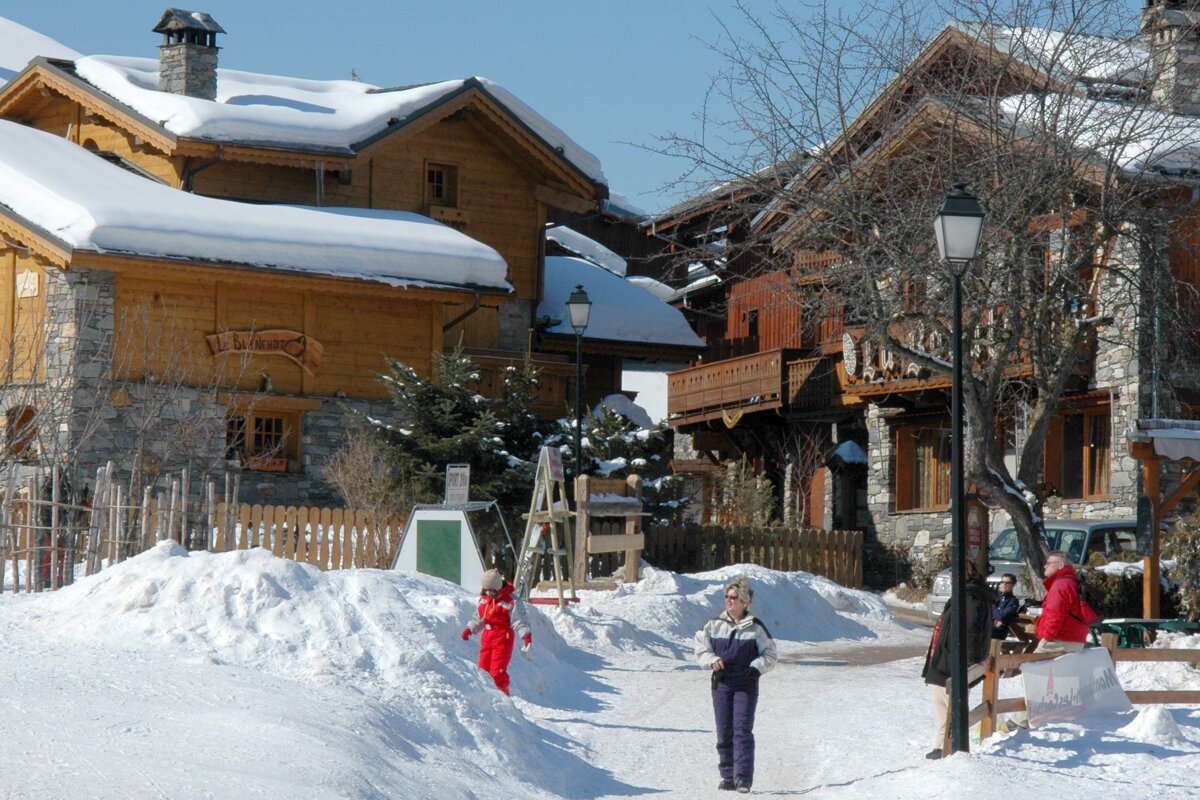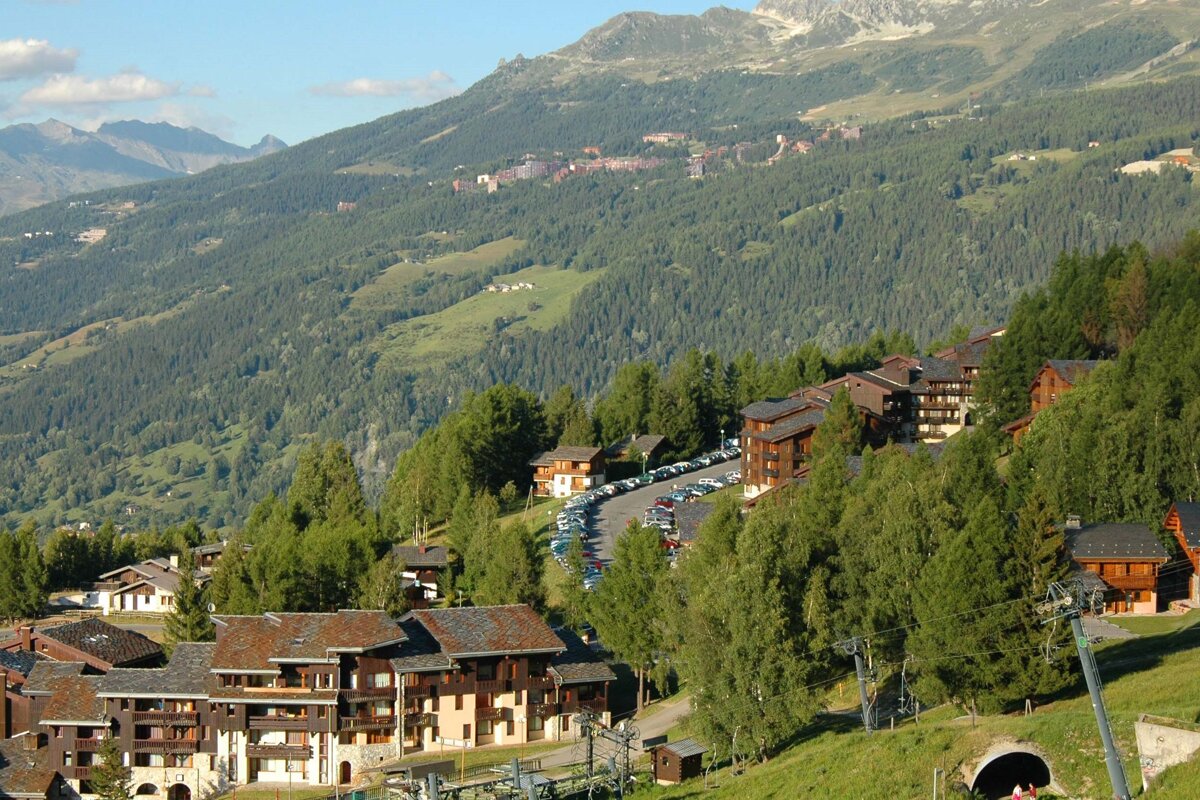 Montchavin - Les Coches
Family friendly villages with lots of activities on offer
The rustic working mountain village of Montchavin is situated at 1,250m and Les Coches Village/ski station at 1,450m. It is north facing so keeps its snow much longer than southern-facing Champagny.
With the judicious positioning of snow cannons it is possible to ski into Montchavin late into the season, if at any point it does become impossible there is a cable car that runs to the nearby village and ski station of Les Coches, which at 1,450m retains its snow longer and affords access all season to Montchavin.
For those of you looking at the village sector lift pass for Montchavin/Les Coches, you have access to three large beginner zones at different altitudes, accessible by bubble lifts, a multitude of lengthy blue and red runs including the Mont Blanc run, longest in La Plagne, beautiful and varied from top to bottom. Several black runs are there if you hunt them out, there's a boardercross track, huge opportunities for off-piste and large cross-country ski areas.
Montchavin is a fully functioning village with everything you will need for your stay, a grocery store, bakery and deli, souvenir shops, clothing and equipment stores, multiple ski hire and service outlets, doctors (in Les Coches), pharmacy, cinema and a well-being centre with pool, jacuzzi, sauna and massage suite which is perfect for an afternoon off or at the end of your ski day.
There's something to suit everyone in family-friendly Montchavin/Les Coches, an excellent ski area, activities, amenities, bars, restaurants and a touch of nightlife, you can be as busy as you want on a holiday in this village that prides itself on its family atmosphere.
Montchavin/Les Coches is well placed near the Vanoise Express giving access to explore Les Arcs ski area.
Things to Do in La Plagne - Montchavin/Les Coches
Montchavin/Les Coches has won awards for the standard of its childcare services, there is a choice of ski schools plus the chance to try all manner of other activities, from Nordic skiing, telemarking, paragliding, ice skating, snow biking, snowshoe walks and quad biking. Husky trips are a favourite for the family.
Dining in La Plagne - Montchavin/Les Coches
There is a handful of restaurants in Les Coches with terraces for afternoon beers and menus covering Savoyard specialities to crepes and pizza. La Taverne du Monchu is a very popular restaurant and well known for its good menu and arty décor. La Table du Tarin has a good-priced menu and you can sit fireside or by the wood-burning stove. If you are celebrating a special occasion then La Poya has a lovely menu and open fireplace while L'Origan is a small friendly pizzeria restaurant with a traditional wood pizza oven.
In Montchavin you have your pick of restaurants serving traditional menus on-piste or in the village such as quaint Le Dos Rond and or La Ferme de Cesar priding themselves on swift lunch service, or family-friendly Restaurant Le Chaudron with menu and activities for children. La Bovate is a friendly restaurant with a varied menu while La Zaccota is a small family-run pizzeria.
Nightlife in La Plagne - Montchavin/Les Coches
Les Coches is a family-friendly village in the heart of the Paradiski area which perfect for exploring both La Plagne and Les Arcs ski area. There are a couple of bars here, offering an après atmosphere, with the White Lines Pub being the liveliest and forming the heart of Les Coches nightlife.
In the evening Montchavin's limited nightlife revolves around a few lively bars. Please note that there is no access to the other La Plagne villages after the lifts close except by a long car journey so if you're after a more lively nightlife Montchavin may not be the village for you.
Chalets in La Plagne - Montchavin/Les Coches
There is a variety of accommodation available in Montchavin/Les Coches, the villages are both picturesque and most of the newer buildings have been tastefully finished in wood slate and stone and there are several beautiful stand alone chalets.
Apartments in La Plagne - Montchavin/Les Coches
You'll find a lot of aparthotels and apartment buildings in the area offering a good choice for every budget.
Hotels in La Plagne - Montchavin/Les Coches
There is a small selection of hotels available here, take a look!
Directions
These two villages are situated at the far left edge of the piste map and are as close as a person can stay to the Vanoise Express to Les Arcs, skiers aiming to get the most out of their Paradiski lift pass often set up camp here. To access the main ski areas of La Plagne involves a four lift connection to Bellecote from which you can get to Plagne Centre, Champagny and the right side of the map. This multitude of lift connections that you have to start your day with are the price you pay for residing at low altitude but you get some compensation on your way home after a long day when those four lifts are replaced by one long beautiful run from 2,340m to your 1,250m home.
Location
La Plagne - Montchavin/Les Coches, La Plagne