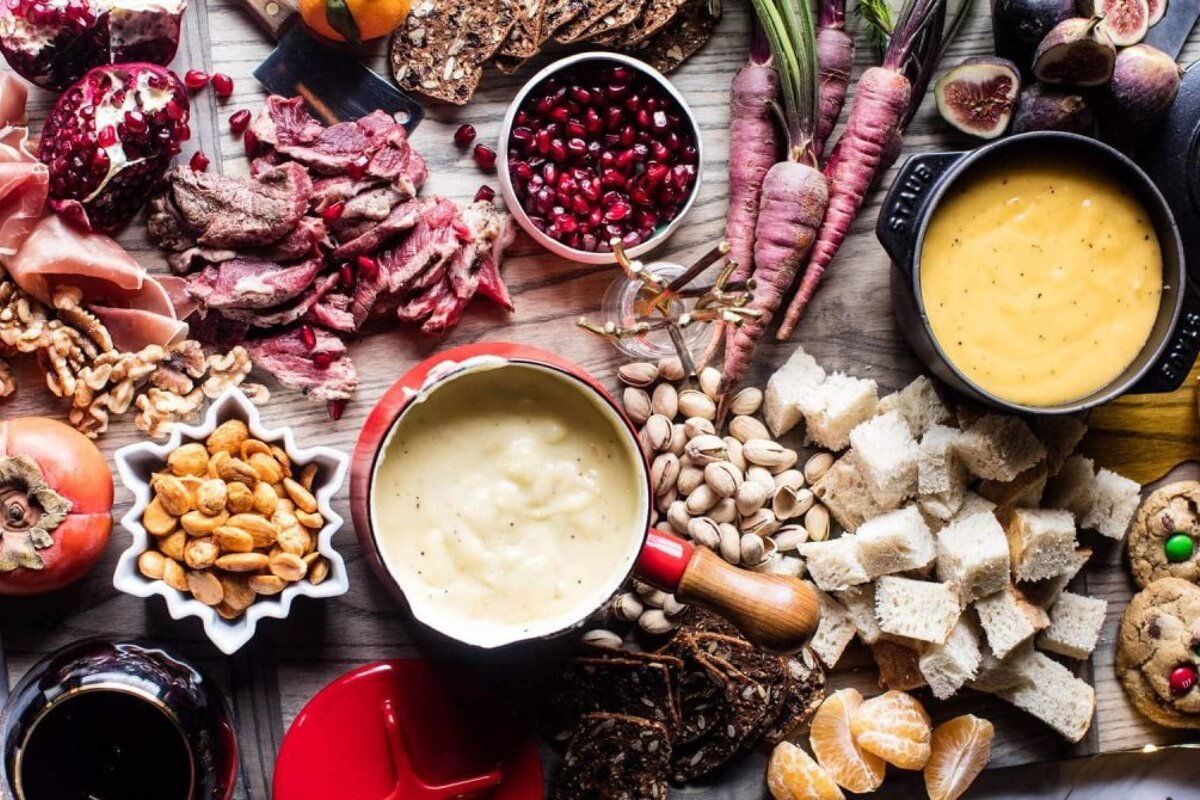 Best fondues in La Plagne
Celebrate the enduring relationship between cheese & ski
The traditional French fondue is a staple of the country's diet and surely one of the most convivial and enjoyable ways to eat together in a group.
In most cases, a typical fondue in La Plagne will cost around €25-€30 per head. There is always a minimum of two eaters required to order a fondue though more typically you'll see groups of 4 or 6. In case you aren't aware, a standard fondue consists of a pot of melted, seasoned cheese (often Emmental combined with Gruyère) served alongside charcuterie, vegetables and bread to dunk. If you've never tried fondue, we strongly recommend you do. It's the perfect way to round off a day's skiing or snowboarding while enjoying a unique part of French culture in the mountains.
Whether it be the traditional cheese fondue or the meat-based Fondue Bourguignonne, here's our rundown of the best restaurants to get your Fondue fix in La Plagne. Note, there are many other restaurants around resort but these are ones we can personally vouch for.
Au Coin du Feu - Plagne Soleil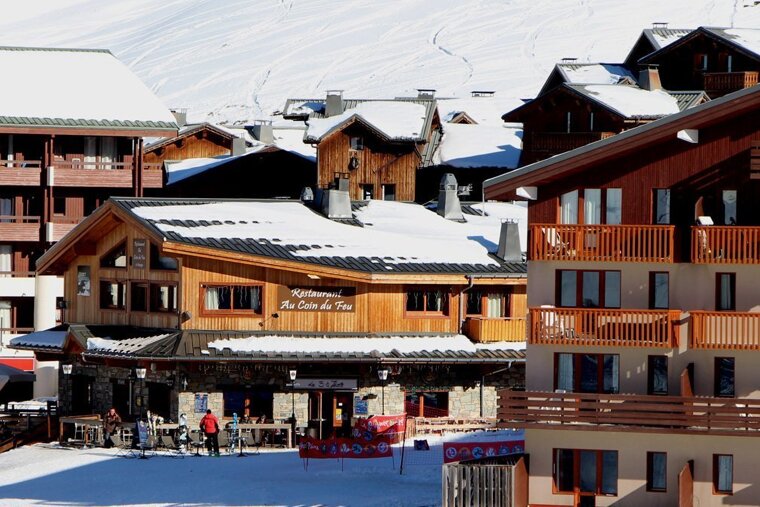 This traditional little restaurant has a fantastic ambience and an enviable reputation for all its food – not just the fondues. It is worth noting, however, that this restaurant is small and can get very busy as it's one of the few places in the relatively quiet Plagne Soleil to enjoy a night out. You are best advised to book early to avoid possible disappointment. Definitely worth a visit if you're in the area. It's located above the Cinq à Siete bar in the middle of the village.
O'Panoramic - Aime 2000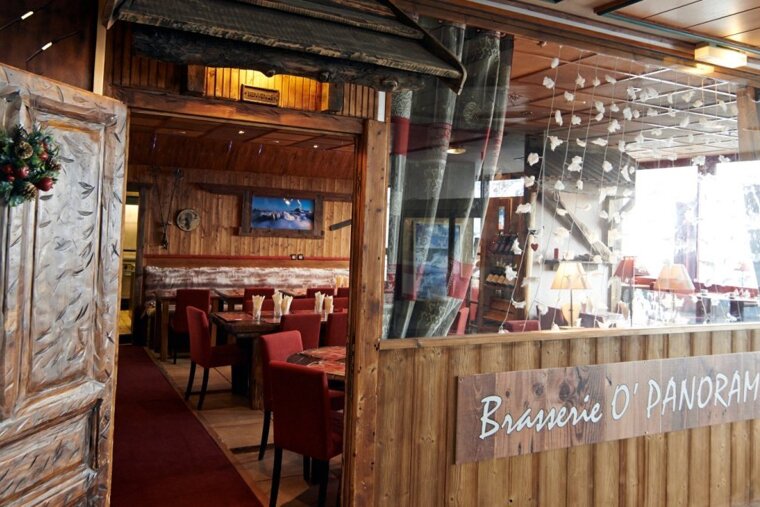 For this writer, the O'Panoramic is the best place for fondues in the whole of La Plagne. Aime 2000 is a pretty ugly building but one thing it does offer is uninterrupted views across to Mont Blanc. As the restaurant is located on one of the higher floors, eating here at sunset is a joy with Mont Blanc glowing red in the distance. As you would expect, cheese or meat fondues are both available and prices are surprisingly reasonable. Unlike the stark garishness of the Aime 2000 building, the restaurant is very tastefully and traditionally decorated inside. Book in advance to ensure a table at sundown. You won't be disappointed.
Le Chalet des Colosses - Plagne Bellecôte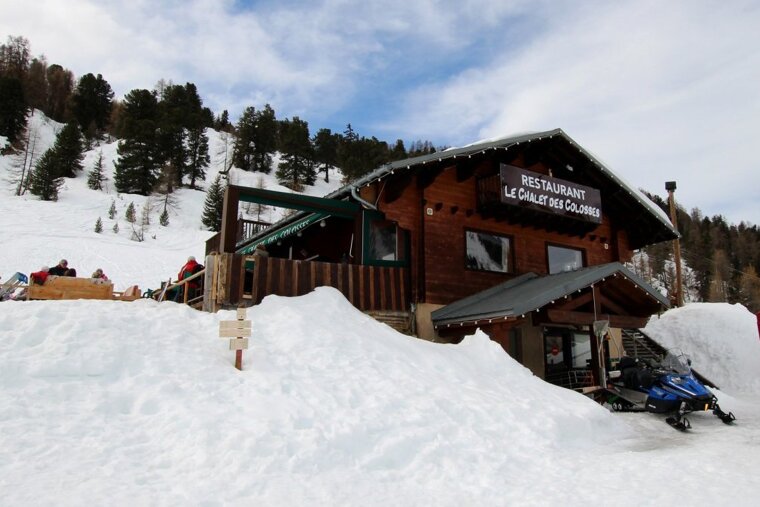 Located just to the side of the main Bellecôte building, Chalet des Colosses has a varied menu of local delicacies and is another restaurant on this list, very much famed for its food and reputation. The views are great looking directly up the mountain or over to Bellecôte itself and the Arpette chair in the distance. Unlike the majority of other businesses and eateries in Bellecôte, the Chalet is separate to the main structure, sitting up the hill a little from the main Roche de Mio gondola station. As ever, if you aren't staying in this particular part of the resort, it's still easy to reach using La Plagne's network of regular satellite buses.
Le Grizzli - Plagne Villages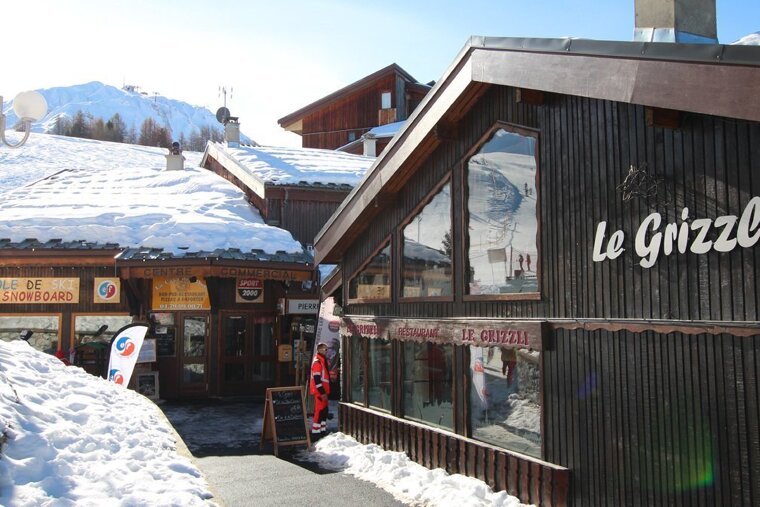 Le Grizzli is an excellent small restaurant located in Plagne Villages, near the foot of the restaurant next to the main shopping area and Spar supermarket. It's well known across the resort for its excellent food and warm, cosy ambience. In particular, the cheese fondue here is delicious and the staff are always welcoming and friendly. Plagne Villages is probably the quietest of all the La Plagne satellites so this restaurant can get surprisingly busy – particularly in the early evening as there's really not much else by way of places to go in Villages. Booking in advance is highly recommended to avoid disappointment.
Stuart Hamilton is the Creative Director of Snow-Guru, Snowboard-App and Ski-App - a range of Android skiing and snowboarding apps aimed at improving your time in the mountains. He also runs iRide Ski and Snowboard app, available for both Apple iOS and Android.
More inspiration...
Complete your skiing or snowboarding holiday by having a fondue this winter. The ambience and experience of sharing food with your fellow eaters while in a traditional French restaurant high up a mountain is the sort of thing memories are made of. Throw in a liberal helping of alcohol and you might just end up having the best night of your holiday.
Location
La Plagne - 1800, La Plagne