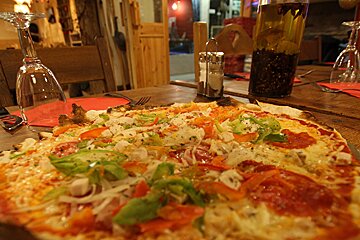 Best pizzas in La Plagne
Top pizzerias and pizza restaurants in resort
At the end of the day you'll be looking for somewhere to refuel.
The Savoie region of France hugs the Italian border and, as you'd expect with such proximity, the food here has been influenced by the area's closest neighbours. You'll often find interesting local twists on more standard pizza combinations, using local ingredients and specialties to concoct some really interesting taste sensations. The vast majority of local restaurants offer at least some kind of pizza/pasta dishes so, even if you don't follow our recommendations, you'll likely find pizza in most venues. Here are some of our favourites.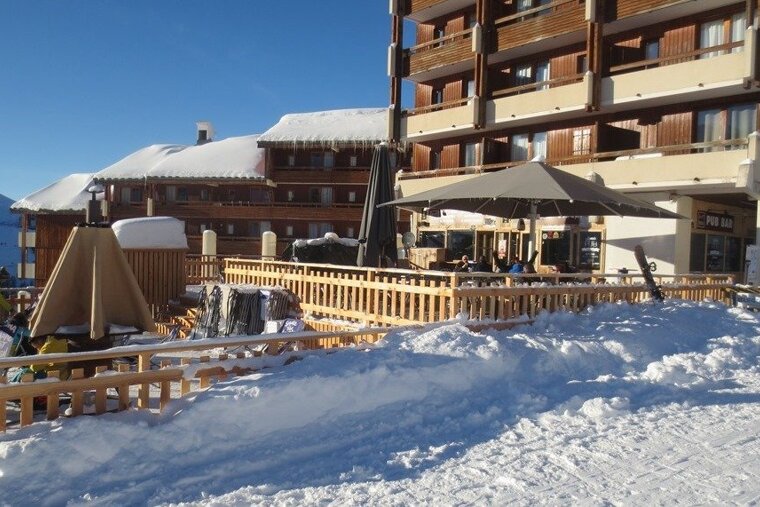 Le Monica's - Plagne Soleil
Le Monica's is a great restaurant located in the heart of Plagne Soleil with a huge, sunny terrace and a fairly diverse range of food. The pizzas here are the most popular item on the menu, and for good reason, as they're delicious and very well priced considering the size and quality. The restaurant is ideally located for a quick pitstop during the day as it's right next to the popular Bergerie lift, easily accessed from the equally popular Ecartés blue piste that runs between Plagne Villages and Plagne Soleil. At night, a regular shuttle bus runs between Villages, Soleil and Centre – and, when you're finished eating, you can visit Le Monica's basement bar to keep the night going a little longer.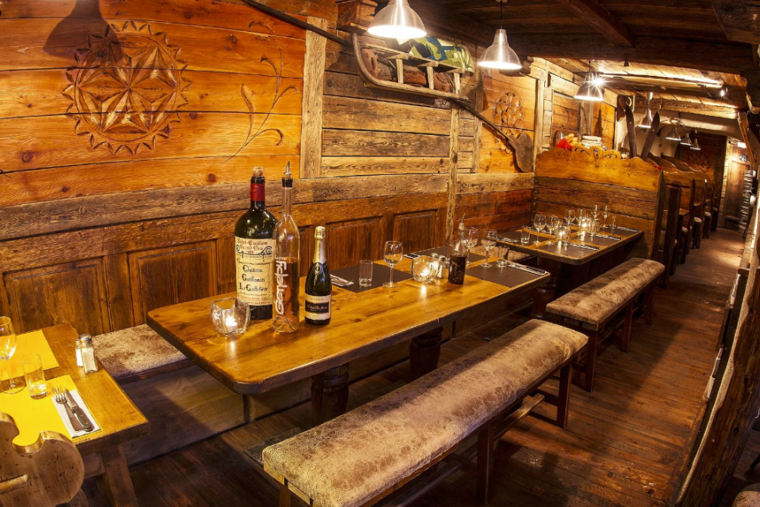 La Cantine - Plagne 1800
While La Cantine has a fairly extensive menu, the majority of the mains are pizzas and there is a nicely diverse selection to choose from. The restaurant itself is located in the heart of 1800, very easily accessed by resort shuttle if you're not staying in 1800 itself. The interior is wonderfully rustic and traditional, though rather small so booking in advance is to be recommended – particularly at busy times during the season. Prices are very reasonable considering the size of the pizzas while the staff are also very friendly and helpful. Once you're done eating, you could pay a visit to Bar La Mine, one of the best venues for a night out in La Plagne, where you'll find live music and a bouncing atmosphere most nights.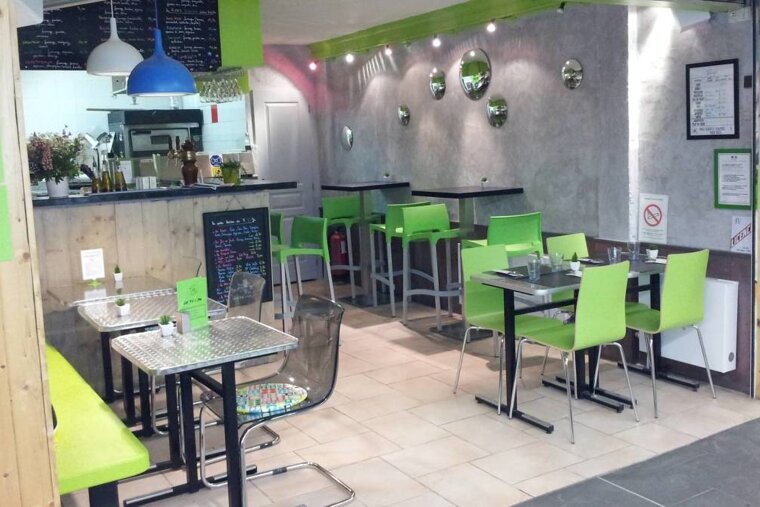 Le Ti & Yu - Plagne Centre
Le Ti & Yu is a primarily fast-food restaurant located in the main Plagne Centre building. The vast majority of the menu is made up of their extensive range of pizzas, though other choices do exist if your group is looking for something more. The no-fuss décor will appeal to some but this restaurant is definitely much more about convenience than atmosphere. Once you're done eating, there are multiple options for continuing your night in bars like Igloo Igloo, Le Luna or Scotty's.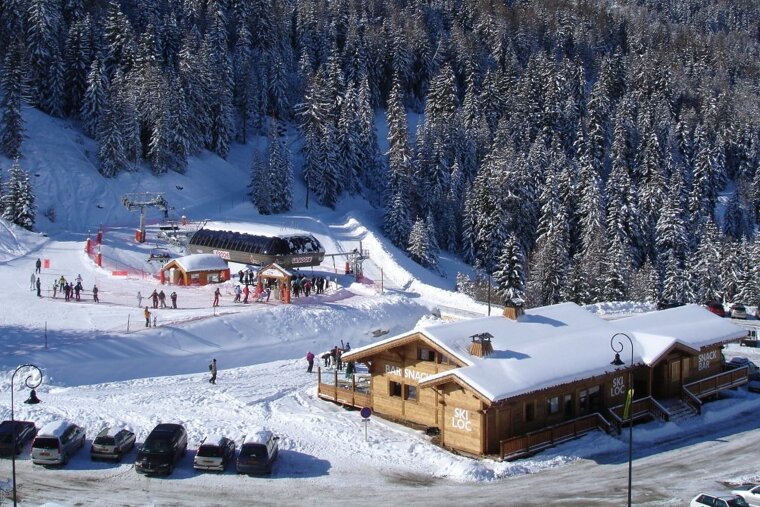 Chalet de la Roche - Plagne La Roche
La Roche is a small satellite village of La Plagne located down below the Olympic Bobsleigh, easily accessible during the day on skis or snowboard – and, at night, by the free shuttle bus which runs from Plagne Centre. The Chalet itself is extremely popular day or night, particularly with locals, though many skiers and snowboarders stop here during the day for a quick pitstop. The menu is quite varied but features mainly Italian cuisine and, of course, pizzas. Being located a little further down the hill (and in the less visited La Roche), stopping here for lunch can prove a good bit cheaper than at one of the mountain restaurants higher up. Night or day though, Chalet de la Roche is worth a visit.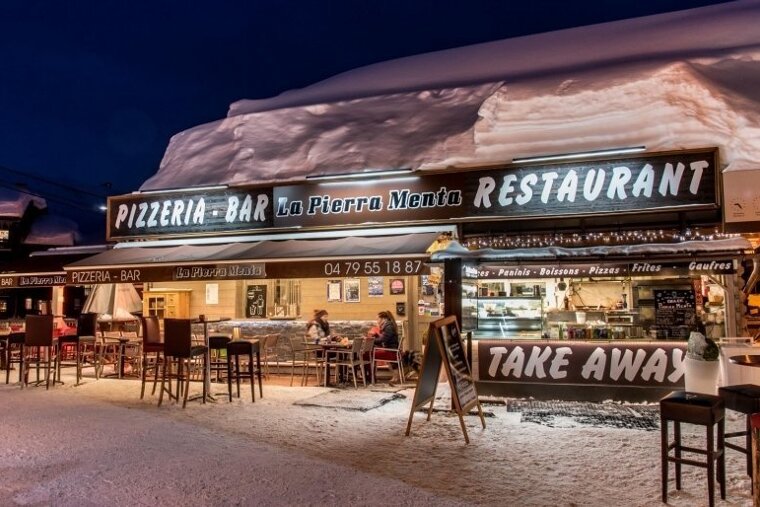 La Pierre Menta - Belle Plagne
This restaurant has changed its name more than a few times so you may still know it as La Casetta or Papagone. As with many of the other restaurants on this list, it's open during the day and features a large sun terrace looking out into the main Bellecôte bowl. It's very easy to reach from the main runs which cross through Belle Plagne and is perfect for a daytime refuelling stop – just head in the direction of the Roche de Mio gondola and you won't go wrong. Night time access can be a bit more tricky unless you're staying locally, however, it's located near the Roche de Mio gondola mid-station in Belle Plagne, meaning it's very easy to get to from Bellecôte. Getting here can be a bit of a hassle if you're staying further away in some of the other satellites and will involve at least a bus followed by gondola ride. Best advice – if you're not staying in Bellecôte or Belle Plagne, you're best to visit during the day. If you are staying closer, day or night is possible. Either way, it's a journey worth making as the pizzas are delicious.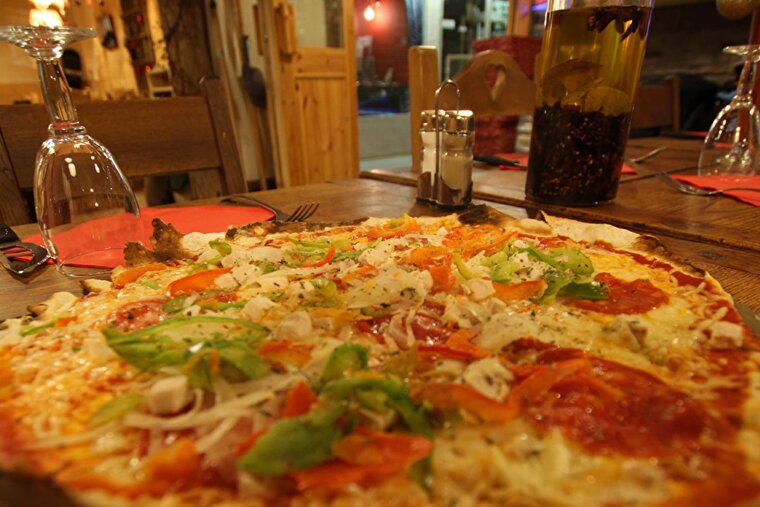 A Tavolo - Plagne Centre
Located in a quiet corner of the main Plagne Centre building, this small cosy restaurant is ideal for a night out – though you might want to book ahead at busier times of the season. Alternatively, they also offer take away options if you'd rather eat at home.
More inspiration...
Buon appetito! Take a look at our complete curated list of restaurants for more places to eat in La Plagne.