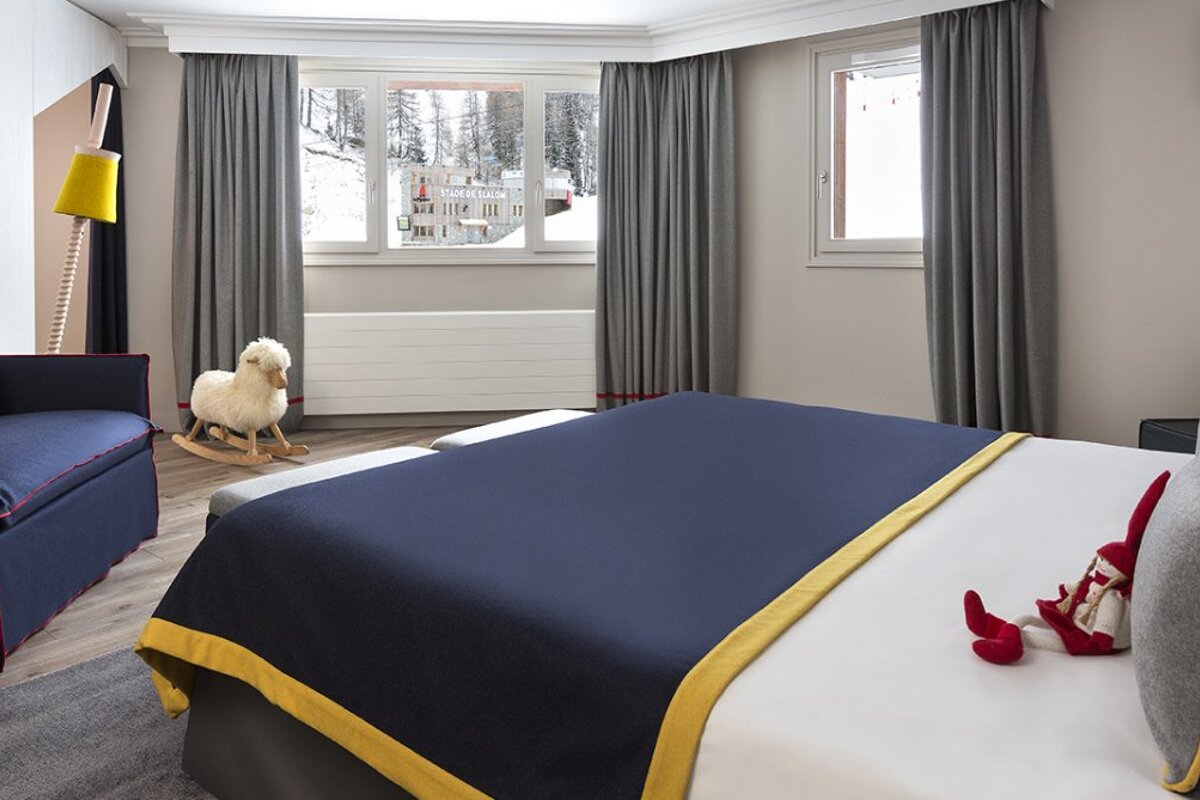 Hotel Guide to La Plagne
Discover insights about La Plagne hotels
La Plagne offers a good range of hotel accommodation, from the basic cheap 'n' cheerful variety up to four-star comfort with gourmet cuisine. Most hotels are located as close to 'on the piste' as you can get, with some tucked away in quiet corners.
Hotels vs chalets & apartments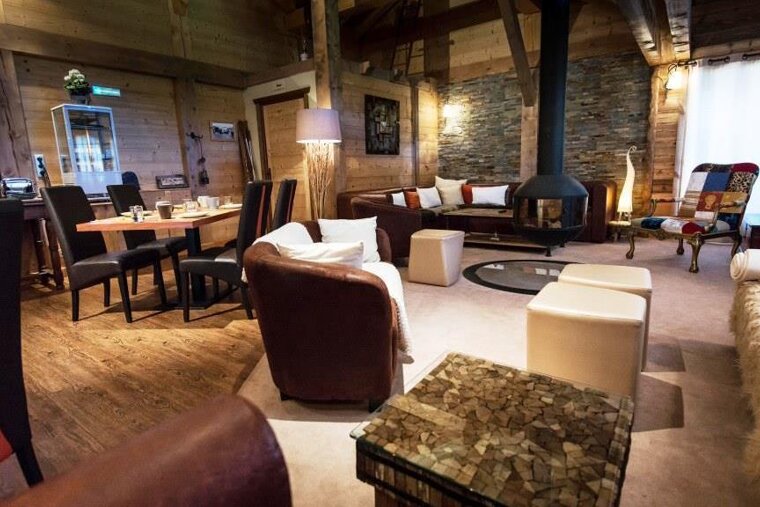 Chalets and apartments are usually the most popular accommodation options when it comes to ski holidays. They tend to offer more room, more flexibility in terms of catering and, sometimes, better prices. However, hotels are also a great choice for those visiting La Plagne, especially when you're not coming for a full week.
Why book a hotel room instead of a chalet or an apartment in La Plagne?
If you aren't planning on a full week ski holiday, hotels can offer much more flexibility on dates, plus many can't be beaten in terms of extended services and facilities such as gourmet restaurants, spas, swimming pools, fitness rooms, tennis courts, childcare, bike and/or ski hire, flexible catering options... the choices are endless. And even though some apartment and chalet companies have recently made their booking requirements more flexible, the reality is that many can only be booked for six or seven days especially in peak season.
Luxury hotels in La Plagne
Hotels in La Plagne tend to be small, family-run establishments rather than the big hotel chains so often found in other resorts. This means that there are no five-star hotels in the area. However, there are a couple of four-star hotel options here that offers luxury facilities worthy of a five-star establishment.
Our favourite luxury hotels in La Plagne
These are the La Plagne hotels that stand out from the rest thanks to their top-of-the-range facilities and services:
Hotel Araucaria
Hotel Araucaria has its own spa and is set in a great location at the foot of the pistes in Plagne Centre. It was refurbished and redesigned by architect Leslie Gauthier a few years ago in a cosy contemporary alpine style and attracts families thanks to its games room, cinema and library.

Hotel Carlina
The Hotel Carlina, modern but with more of a nod to chalet style, is located in the popular and scenic Belle Plagne part of the resort. The 2,100m2 spa and fine dining restaurant boast a sun-drenched terrace, both of which make this hotel stand apart from the rest.

Hotel Le Cocoon
Four-star Le Cocoon, in Plagne 1800 is a chalet-style boutique hotel with ski-in and ski-out access. There are two restaurants, a gourmet eatery and a grill, as well as an outdoor jacuzzi and Nordic sauna with views over Mont-Blanc.
Group-friendly aparthotels in La Plagne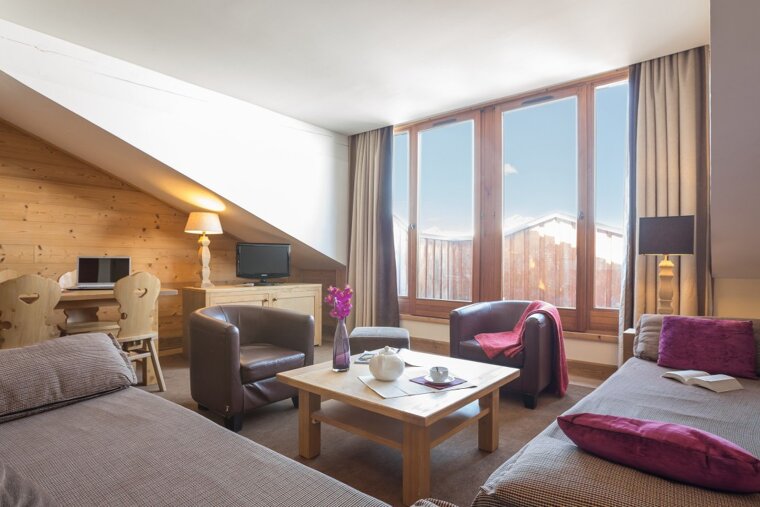 La Plagne has a good selection of aparthotels (apartment buildings with hotel facilities) that are great for groups or families sharing accommodation. Many of these apartments can accommodate small groups and, for larger parties, you can rent more than one.
Top group-friendly aparthotels in La Plagne
These are our favourite apartment residences with hotel facilities and services in La Plagne, offering spacious accommodation for groups.
Les Hauts Bois
Perched upon the mountains in Aime 2000, the highest resort in La Plagne, Les Hauts Bois Residence offers apartments for up to 10 people. The building has a wellness centre with an indoor pool, sauna, steam room and gym, plus beauty and massage treatments should you need a bit of pampering when you get off the slopes.

Les Montagnettes
Situated on the side of the piste in Belle Plagne, Residence Les Montagnettes has apartments accommodating up to eight people. With ski-in and ski-out access, a spa and a catering service, this is a very popular option among La Plagne visitors.

Le Mont Soleil
Le Mont Soleil Residence is situated in Plagne Soleil and boasts real ski-to-door access. Offering peace and quiet while still being close to the local shops, bars and restaurants, the building has a lounge bar and a sunny terrace where you can relax after a day of full-on skiing.
Family-friendly hotels in La Plagne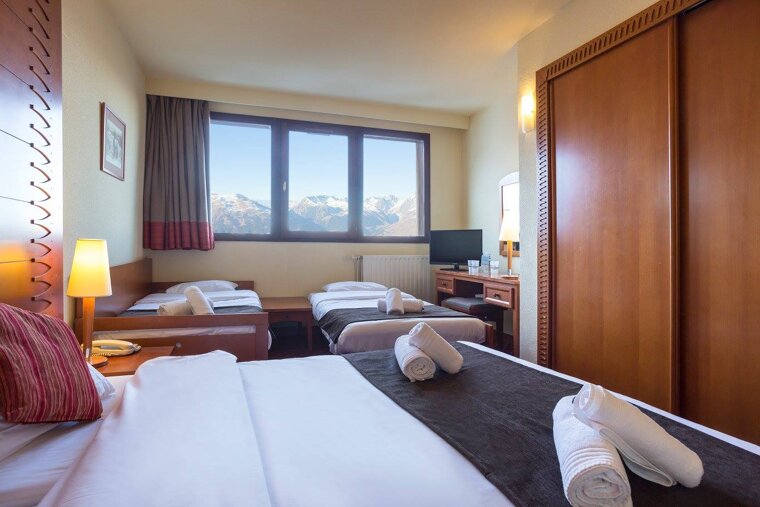 Most hotels in La Plagne are more than happy to welcome young children and many of them offer family rooms. However, there are many other things to consider, such as distance to the pistes, amenities and services within the hotel and facilities in the neighbouring area.
Our top family-friendly hotels in La Plagne
This is where we'd book a room if we were travelling with young children.
Club Med La Plagne 2100
Located on a mountain top overlooking the Paradiski pistes, Club Med in Aime 2000 is perfect for families. It offers all-inclusive holidays, an entertainment programme, a great indoor spa area and excellent facilities. Its kids clubs for all ages, from toddlers to teenagers, and babysitting service upon request will make your family ski trip to La Plagne completely hassle-free.

Hotel Terra Nova
Another great option is the Terra Nova in Plagne Centre, which has 119 rooms and an in-house ski hire shop. Families will love the children's club for kids aged three to 17, and the chance to save money thanks to its all-inclusive options.

Hotel Bellecote
Only two minutes from the slopes, in the quiet family-friendly town of Montchavin, is Hotel Bellecote. As well as a fully equipped spa, the hotel has a dedicated playroom with games consoles, board games, books, crayons and paper. Its restaurant, Le Cauldron, offers a two-course children's menu.
Cheap hotels in La Plagne
There are plenty of cheap hotels in La Plagne offering decent quality rooms at reasonable prices. Many are located in the resort centre, making them a good place to base yourself on your mountain biking or ski holiday while saving some money at the same time.
Top best-value hotels in La Plagne
In our opinion, these three hotels offer the most bang for your buck.
Les Rhododendrons Hotel
Les Rhododendrons Hotel is a good-value chalet-style hotel next to the slopes in Plagne 1800. This family-run establishment offers a restaurant with mountain views, a popular après-ski pub, table tennis and a pool table.

Les Glieres Hotel
Located in Champagny, this three-star family-run hotel is right on the doorstep of the Vanoise National Park and located only 100m from the nearest lift. There's a restaurant serving local Savoyard cuisine, a lounge bar with log fire and pool table and a sauna.

Le Sauget Hotel
Over in Montchavin is the rather cosy chalet-style Le Sauget, which only has five bedrooms. It's perfect if you're looking for a little more peace and quiet – in winter it's only accessible by chairlift! You'll find a sauna and an outdoor hot tub to soothe your muscles after a day on the slopes.
Ski-in & ski-out hotels in La Plagne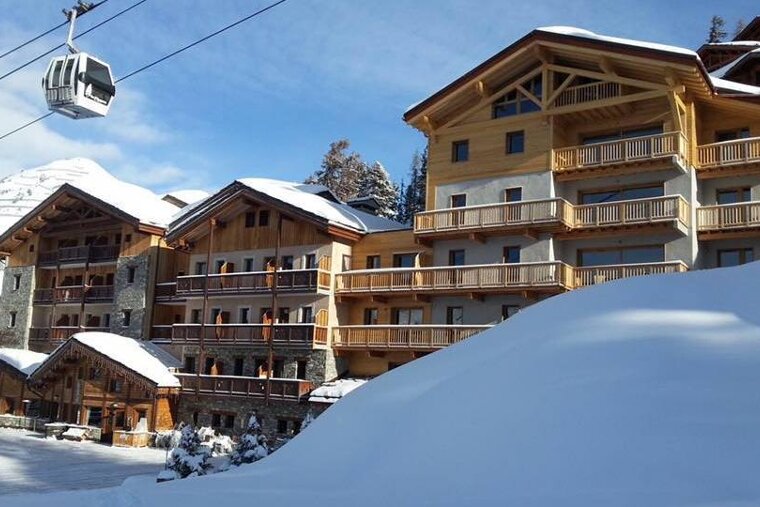 Almost all of the hotels in the La Plagne area boast easy access to the pistes and ski lifts, either sitting right next to the foot of the slopes or just a short trip away by one of the free local buses. Some of our preferred ski-in and ski-out hotels in La Plagne are Hotel Araucaria, Hotel Carlina and the Club Med in Aime 2000.