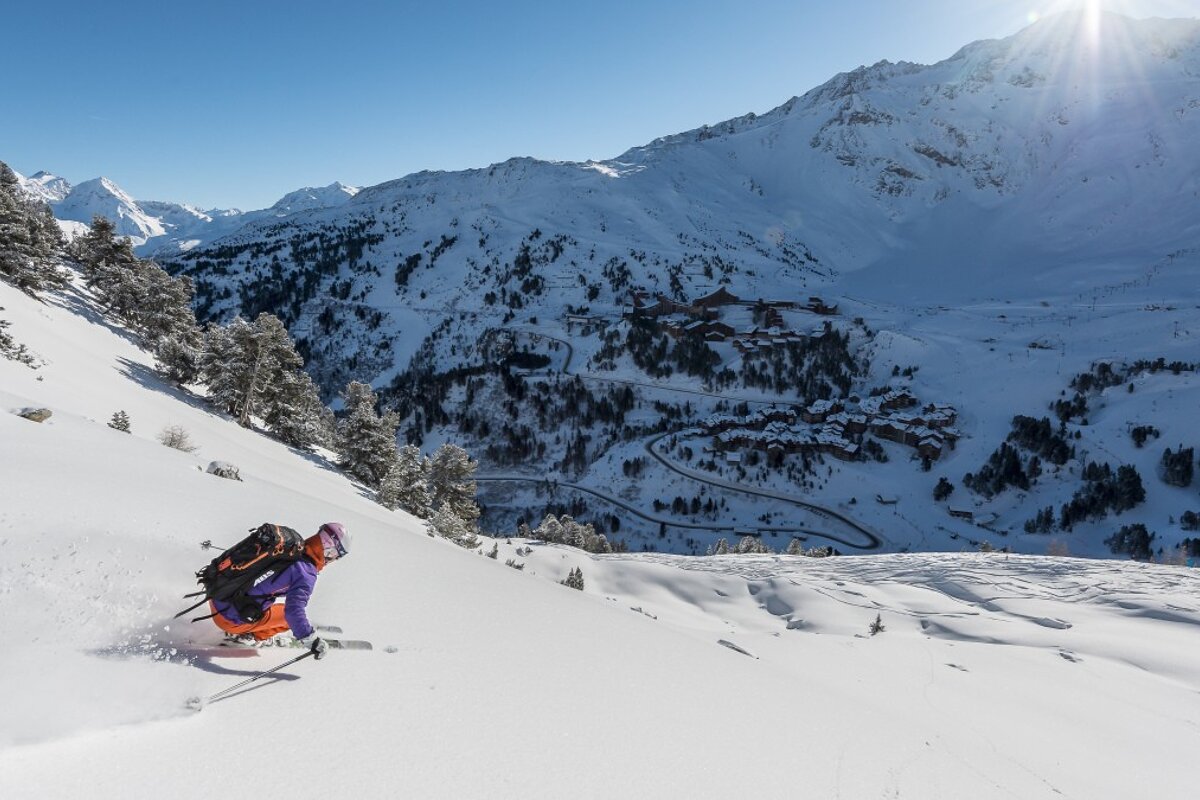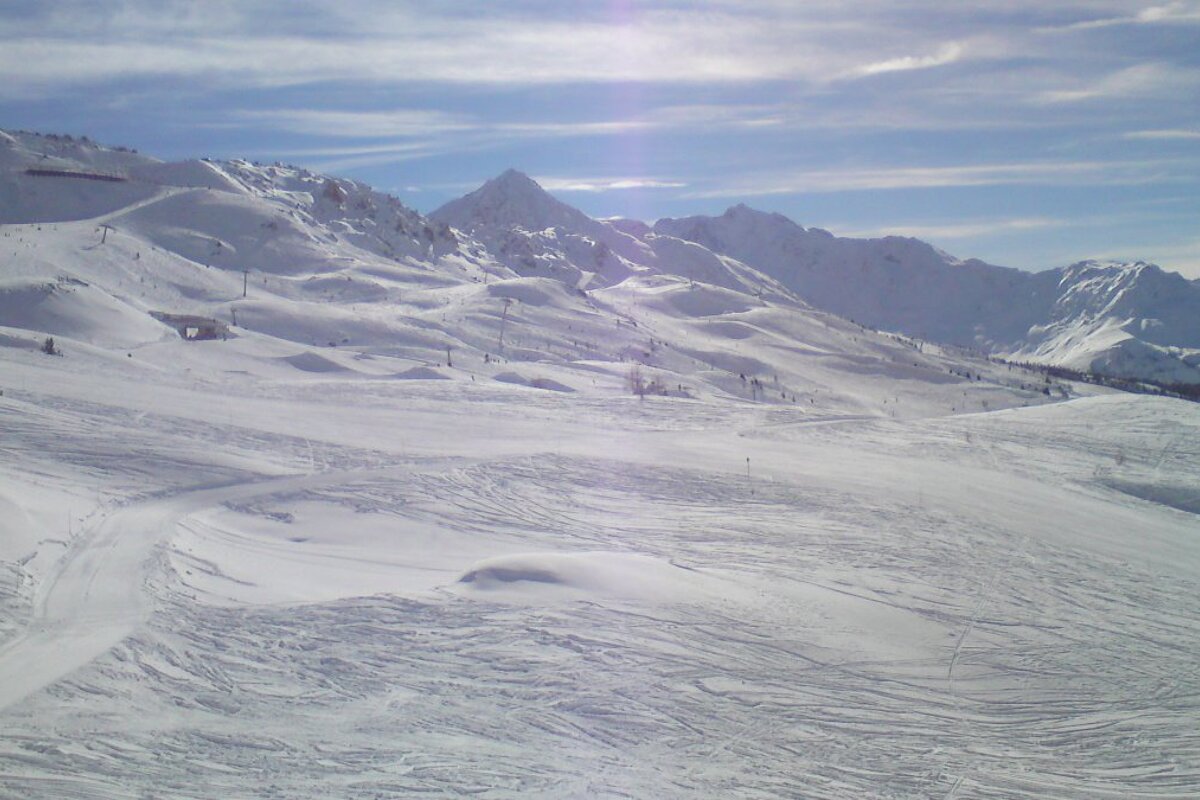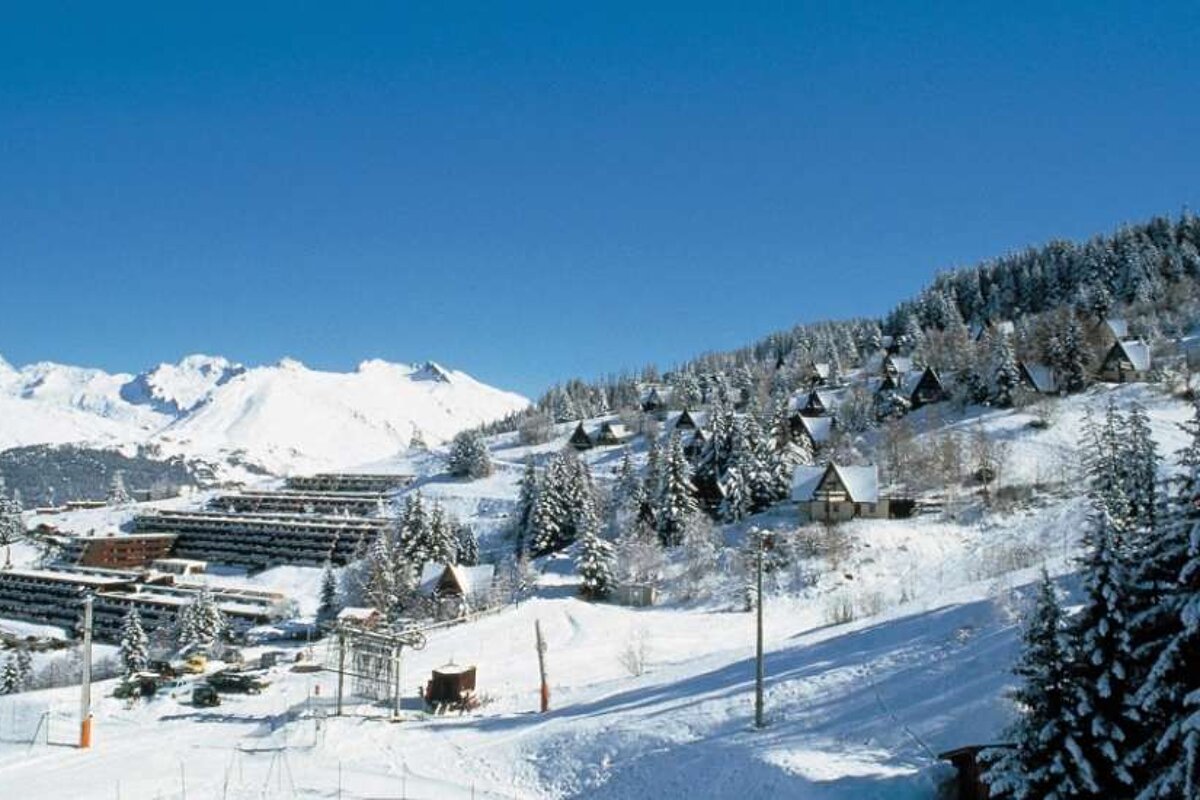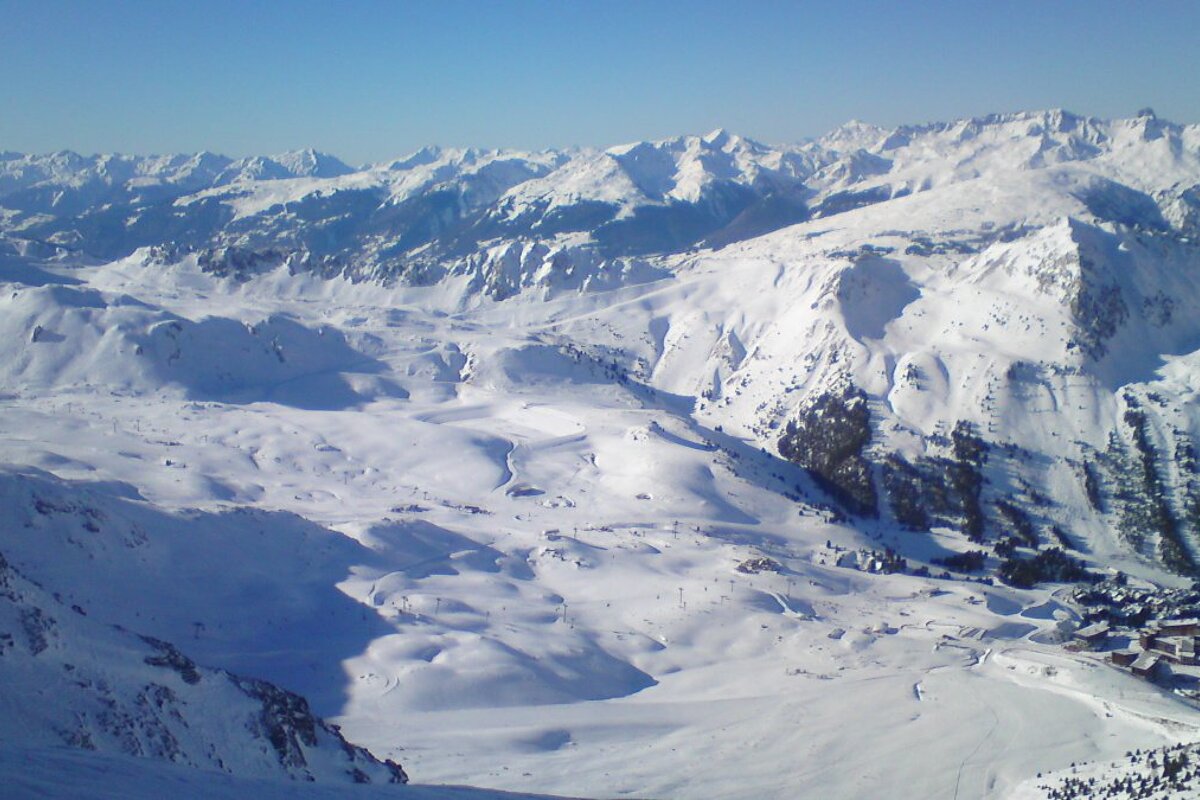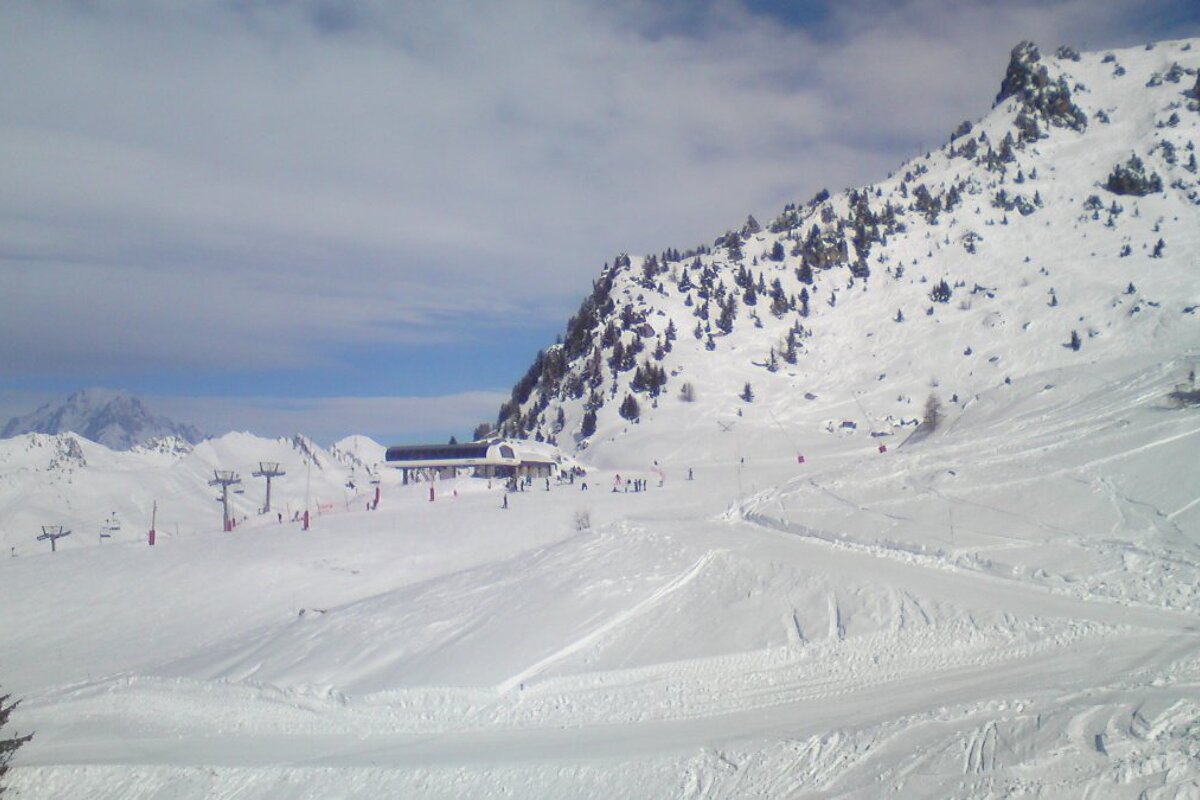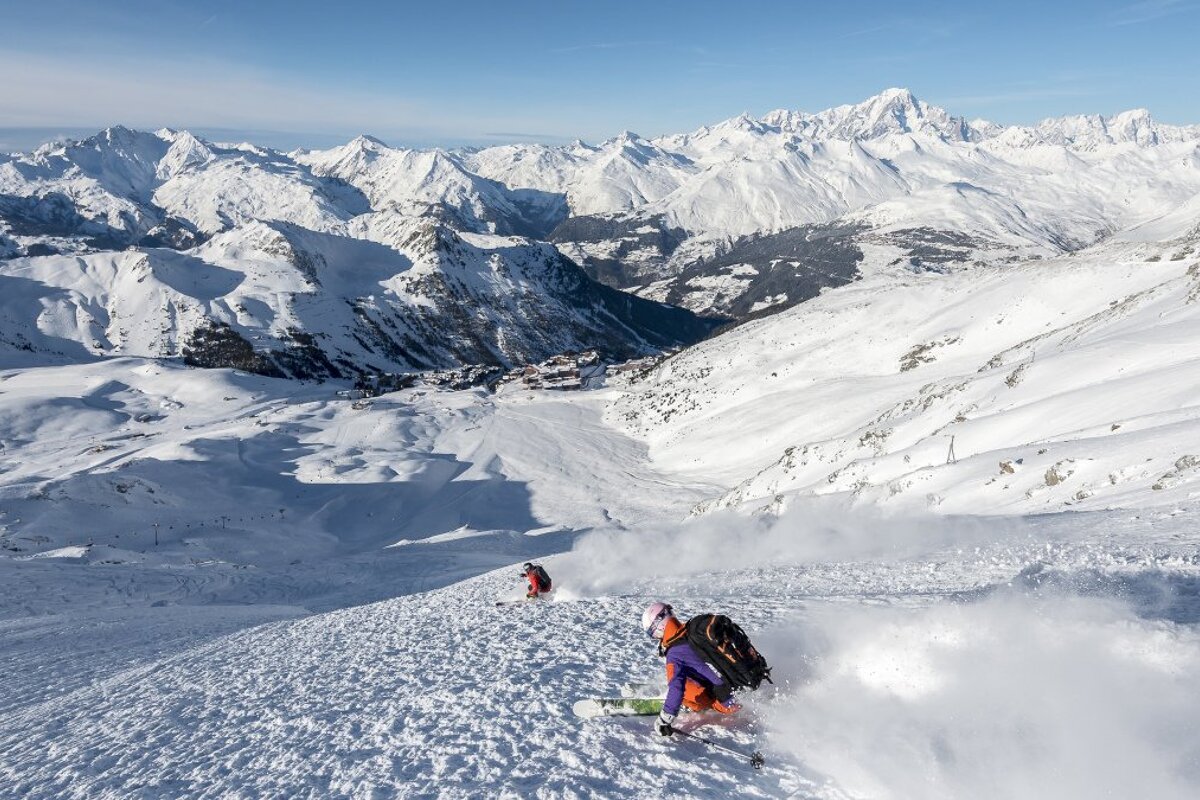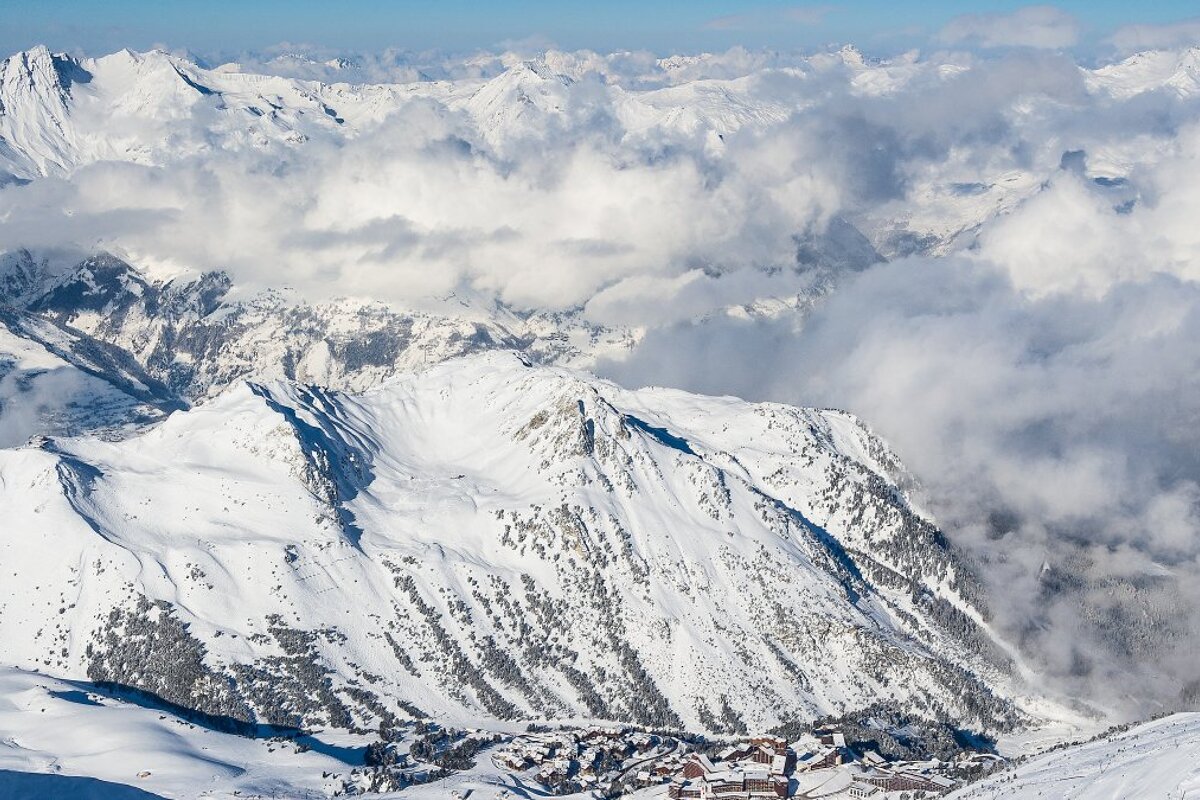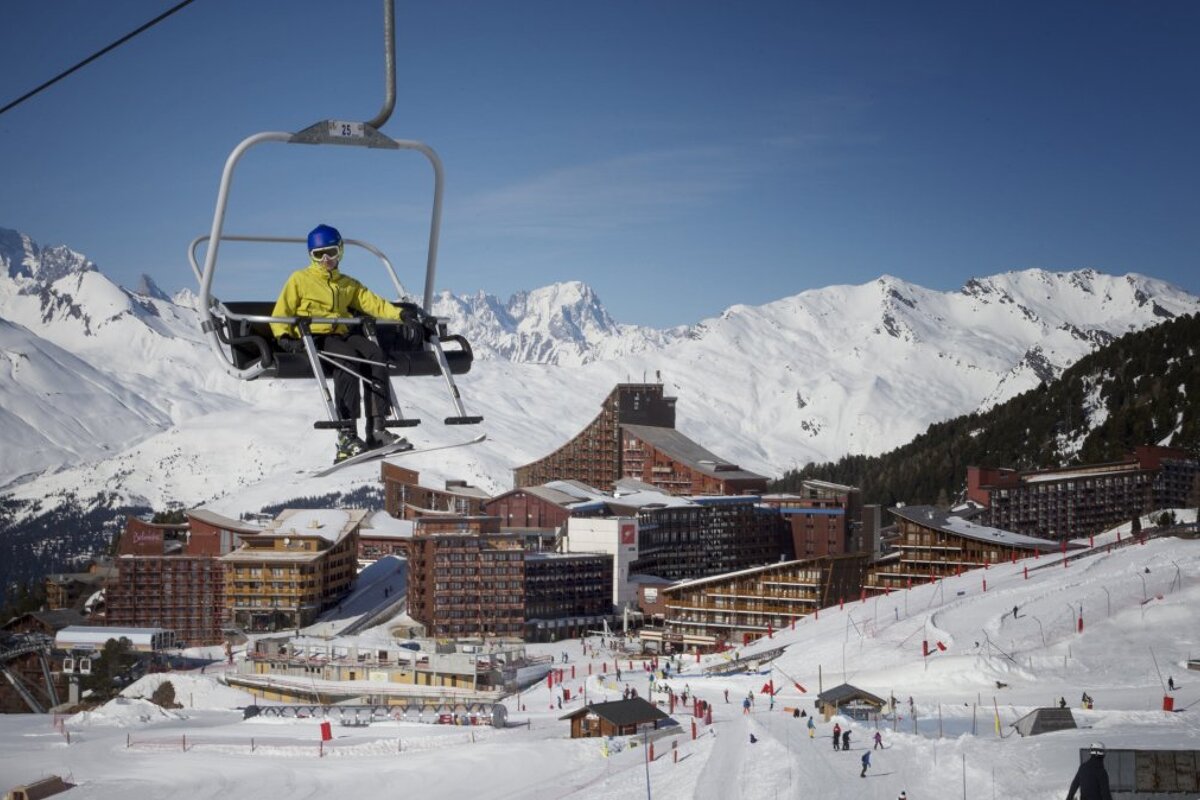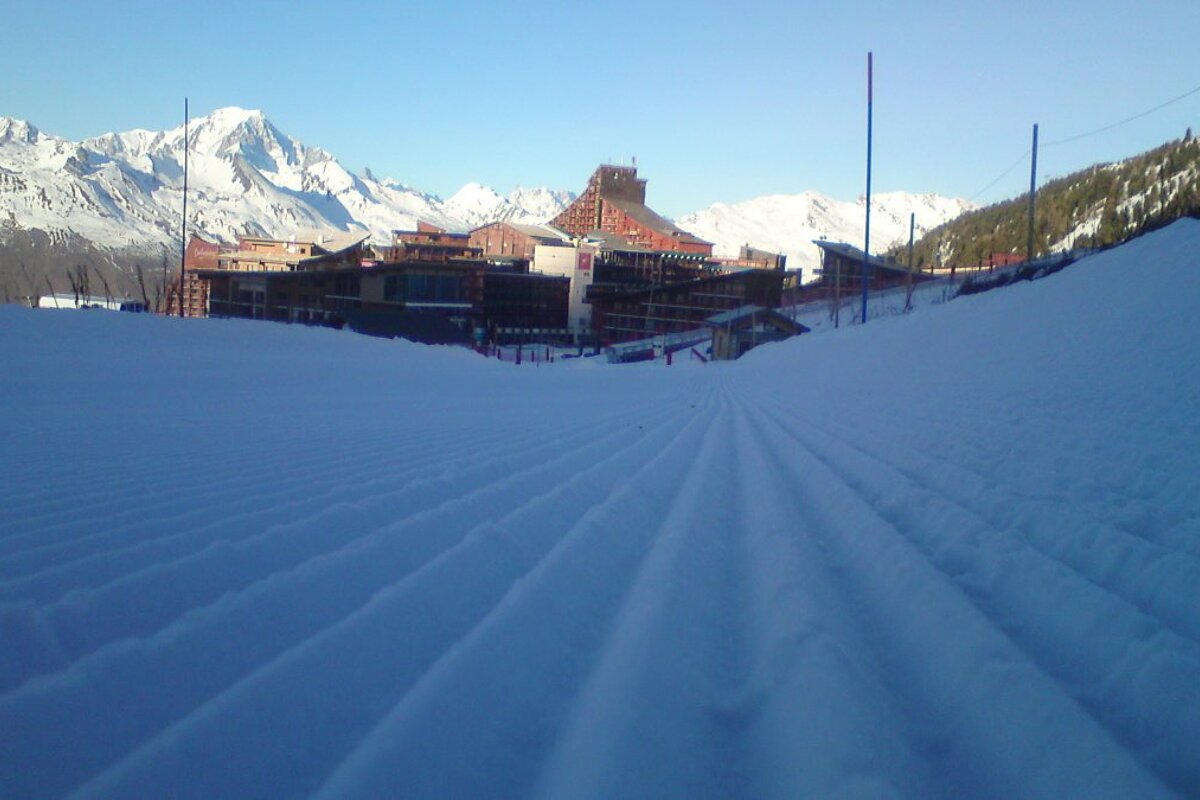 Les Arcs Ski Area
Where to find the best skiing or snowboarding in and around Les Arcs
With one of the most extensive and varied ski domains in the world, Les Arcs and the Paradiski area truly offers something for every level of skier or snowboarder.
Taken independently, Les Arcs has 200km of piste, a high point of 3226 metres and excellent snow-making facilities that guarantee back-to-resort skiing all season long (see the piste maps). When combined with La Plagne (the other half of the Paradiski area), you have access to 425km of piste, 171 lifts, 2 glaciers (at over 3000 metres), 2 snow parks, 100km of cross-country ski trails and much more to keep you entertained in the Winter months.
The Les Arcs ski domain is made up of 128 pistes including 64 blue and 44 red pistes. There are also 3 green pistes and 17 black pistes, all accessed by 54 ski lifts. The area is split into the following resort villages:
Arcs 1600
The Arcs 1600 area faces south-west and provides extensive tree-lined skiing enabling descents to the unspoilt villages below resort level. It is an "all weather" ski area that holds the snow well, but the abundance of artificial snowmaking machines this mean you are virtually guaranteed being able to ski back to the village.
Arc 1800
This part of the resort sits around the tree line and is surrounded by wide, sunny, pistes that offer plenty of room for those on their first week. 90% of the runs into resort are graded blue, making it a great base for beginners and intermediates. It is best to try to avoid the bottom of the Maïtaz, Villards and Charmettoger runs where they converge at the Transarc gondola; this is usually teeming with people and, as it can get very icy, can catch out even the best of us, so try to use the mid-station point of the Transarc to get up and over to 2000m.
Arc 2000
Arc 2000 is more suitable for intermediate to expert skiers as the runs here tend to be more reds and blacks and the off-piste around resort is truly amazing. More advanced skiers will love the challenging runs off the Aiguille Rouge glacier where you will also find the longest run in resort, at 7km long with 2100m of vertical drop! But don't miss out on Arc 2000 if you are only just beginning to ski or snowboard as there are some fantastic rolling blues which are shallow enough for you to learn on.
Arc 1950
The area known as Arc 1950 is the more recently built neighbour to Arc 2000 so it also gives you swift and easy access to the more challenging runs in the area. Built by Intrawest (who also built Whistler in Canada), with convenience in mind, you can ski right back to the heart of the resort and step out your skis at the door.
Peisey-Vallandry
Peisey-Vallandry has many beautiful tree-lined pistes which are perfect for beginners. Despite being the gateway to La Plagne (via the Vanoise Express), this tends to be the quieter side of the valley. There is a good mixture of blue and red runs in this sector, allowing you to choose your difficulty at the top of practically every lift. There are some wide-open pistes higher up, but if you like to ski between the trees then this is the place to do it. When the snow has dumped, the slopes around Peisey-Vallandry can seem almost heavenly.
Watch this
Beginner areas in Les Arcs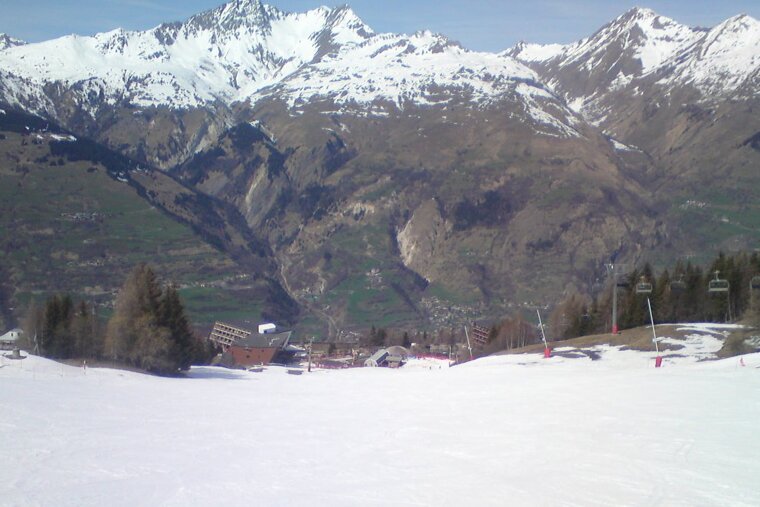 Each village of Les Arcs ski area has a number of gentle blue runs and nursery areas, designed specifically for beginners, so you will be able to learn pretty much anywhere in Les Arcs.
Arc 1600
No green pistes, 15 blue pistes. With lots of nice rolling blue pistes in the trees, Arc 1600 is a good place to learn to ski or snowboard and also to progress from skiing blues to reds. There are a couple of short ski lifts here you can lap - Cachettes and Vezaille. Build up your confidence on these before heading further up the mountain onto some of the longer runs.
Arc 1800
2 green pistes, 11 blue pistes. In Arc 1800, the two green pistes can be found at the Mille 8 complex. You'll find wide tree-lined runs here, that lead back to resort and which are a great learning environment for beginner skiers, with plenty room to practice those turns and a gentle gradient to build confidence.
Arc 2000
No green pistes, 20 blue pistes. Whilst Arc 2000 is generally considered more suitable for intermediate to expert skiers there are some fantastic rolling blues which are shallow enough for beginners to learn on. For some nice quiet rolling blue runs which will ease you into your holiday, try either the Plan Vert piste, which starts just down from the top of the Transarc gondola, follow onto the Edelweiss run until you reach the Marmottes chairlift or try the Cascades run from the Bois de Lours chairlift to the Pre de St Esprit chairlift.
Peisey-Vallandry
1 green piste, 14 blue pistes. Peisey-Vallandry also has a range of gentle, cruisy blue runs that are perfect for beginners and in tree-lined serenity for that perfect first ski holiday experience. In Peisey use the Peisey chairlift and the Cabri J bar lift, or in Vallandry use the Vallandry chairlift and the Flocon J bar lift.
Villaroger
No green pistes, 4 blue pistes. The lowest village in Les Arcs ski area, Villaroger, offers a small selection of 4 blue pistes which are all relatively short and can be lapped easily via the Replat chairlift. When you're ready to move onto longer, more challenging runs, the Plan des Violettes lift gives you access to two more runs through the trees.
Espace Ludique
You'll also find some fun zones "Espace Ludiques" in the Mille 8 complex, and at the Rodeo Park where you can try out baby snowpark features, a boardercross course and even have a go at sledging once your ski lessons have finished.
Advanced areas in Les Arcs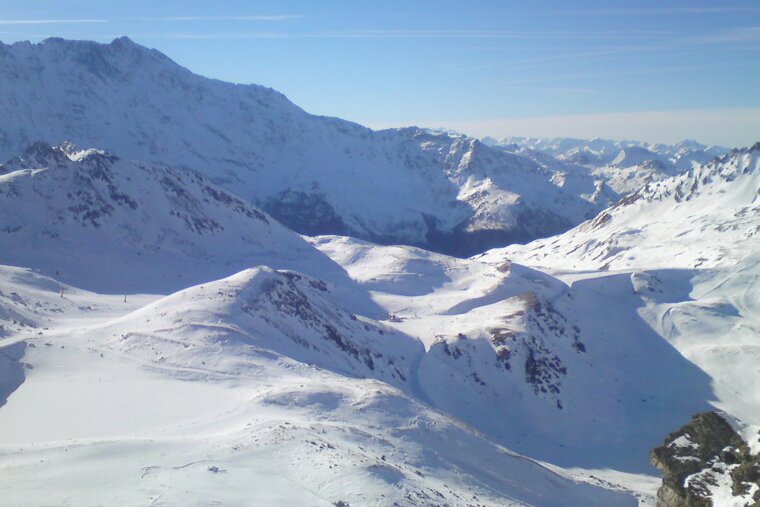 For advanced skiing in Les Arcs, head to the Aiguille Rouge cable car and the genuinely challenging skiing to be found on the Varet glacier, high above Arcs 2000.
It is up here that you'll find the longest run in resort, the breathtaking black run that goes all the way down to Villaroger - 7km long and over 2000m of vertical drop. The black and red runs and the bounteous off-piste possibilities in this area will keep even the most energetic skier or snowboarder entertained for days. However, to make the most of the terrain up here a mountain guide is recommended as the area is glaciated and there are also some expansive cliff faces to be avoided.
If speed is your thing then the Aiguille Rouge/Varet area is also home to Les Arcs "Kilometre Lancé" or "Flying Kilometre" piste. Whilst you can't do this piste on your own unsupervised, it is possible to put yourself against the clock through the Les Arcs Club des Sports who can also provide you with all the necessary safety equipment. You will often see the pro speed skiers in their futuristic space suits training on this piste, attaining speeds of over 200km/h!
Take a look at speed riding and other flying activity companies if you want to have a go at something a little bit different yourself.
Those of you with springs in your legs will no doubt love pounding the bumps of the Dou de l'Homme piste or perhaps explore the fabulous off-piste through the Nancroix forest.
Snowparks in Les Arcs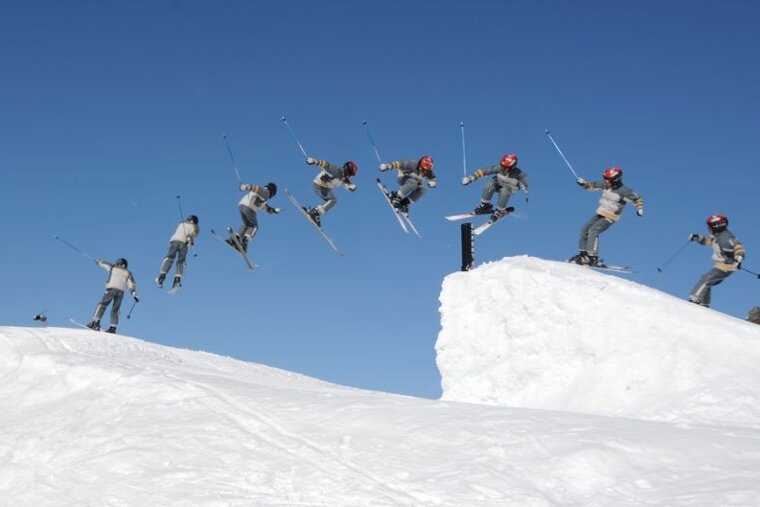 The Apocalypse Parc lies between Arc 1600 and Arc 1800 next to the Snowpark ski lift, and has lots to offer, ranging from blue level jumps to black kick-rails and a quarter pipe. It also has rail slides, a spine jump and for the really adventurous - a gap jump. Or if you are into testing your speed, try the boarder cross for both skiers and boarders alike.
They also have a permanent airbag where you can try out your freestyle skills with a guaranteed soft landing, and a rails park in Peisey-Vallandry at the bottom of the Cabri chair lift. The best thing is it's all free! Check out the video on this page for a taster of what's on offer.
Best pistes in Les Arcs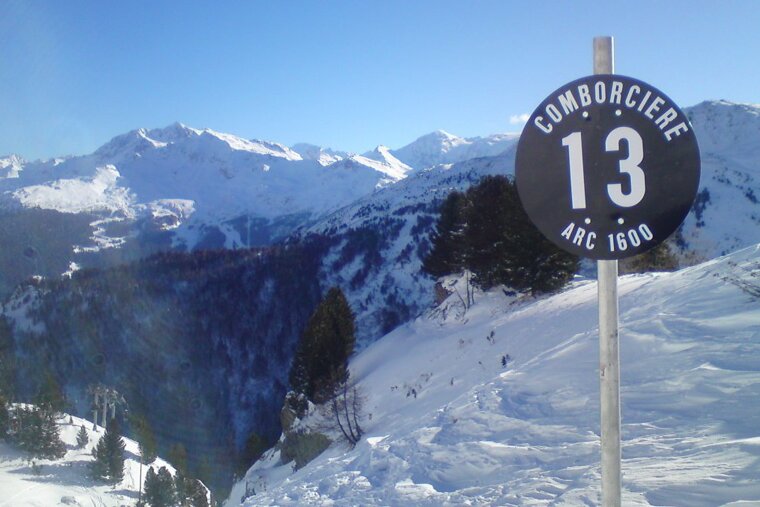 Whether you're into mogul fields, steep descents, quiet tree-lined pistes with great snow or just somewhere to rediscover your ski-legs, there is a piste in Les Arcs just for you.
If you want to try the longest run, then get to the top of the Aiguille Rouge cable car at Arc 2000. From here you can travel 7km non-stop (whilst descending over 2km) into Villaroger, on the Aiguille Rouge black run. At about a third of the way down it changes into a red, but it can still be demanding. Have this on your list for one of the first runs of the day, as you may avoid the crowds and should still have plenty of energy in your legs. If you love moguls, then head to the top of the Comborciere or the Muguet black runs. Both of these runs are very demanding, steep and, as the sign states at the bottom of the Comborciere lift, "for expert skiers only." Even with a dump of fresh snow you'll need your legs to be full of "bounce" and ready for the challenge.
From the top of the Comborciere chair lift take you can also take Malgovert "natur" run into Arc 1600. It is unpisted, meaning it's never flattened out by the piste-bashers, and has a good number of rocks, trees and other natural obstacles to navigate.
If you're looking for a long, blue cruise through the trees, then consider the aptly named Forêt run which starts atop the Grizzly lift above Peisey-Vallandry. It winds a serious distance all the way down to Vallandry, although some of the sections through the woods can be quite tight and, beginner snowboarders beware, a little flat.
If your group contains people of different abilities, head over to the Derby lift, where three great runs (one blue, one red and one black) all head back to the bottom of the chairlift. Renard (blue) is wide and sweeping, great for beginners looking to take the next step. Belette (red) is also wide, steep at the top but flattening out to invite real speed tests. Bosses (black) is French for "bumps" and it forms thin, heavily-moguled track between the other two pistes. Towards the bottom, it even forms a kind of natural half-pipe, if you want to throw in a bit of freestyle. All of these runs have access to some fun just-off-piste too.
Off-piste areas in Les Arcs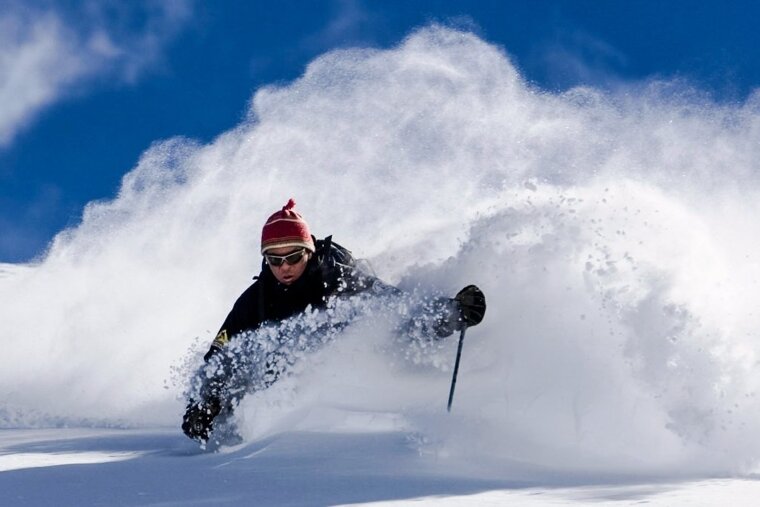 The Grand Col is an off-piste playground. The lift is small and slow, which can be off-putting, but there are typically fewer people on the two (one red, one black) pistes than in the off-piste areas surrounding them. Because the whole area is above 2500 metres it receives, and keeps, more fresh snow than most other areas in the resort. Be prepared for the very flat (if not slightly-uphill section) towards the bottom of the red run, you'll need some serious speed to traverse it without undue effort.
Similarly, but a bit lower down, there is plenty of off-piste accessible from the top of Arc 1800's Vagere lift around the Golf and Vagere red runs. There are some hidden streams towards the end of the Golf run however so, as with all off-piste skiing, exercise caution in areas you do not know well.
For beginners who want to try some off-piste, they should try the wide-open area above Peisey-Vallandry, around the 2300 lift. Although largely groomed, there are some patches which are left unpisted, and can be great fun immediately after a snowfall. You've got to get up there quickly though!
If you like dodging the trees, there's plenty of forest near the Derby lift which can be successfully negotiated by those with the requisite skills. There's also lots of other woodland leading down to, and beyond, Arc 1600.
Please note: you ignore safety warnings and barriers/ropes and undertake off-piste skiing/boarding at your own risk. We always recommend that you take a mountain guide when heading off-piste.
Bad weather areas in Les Arcs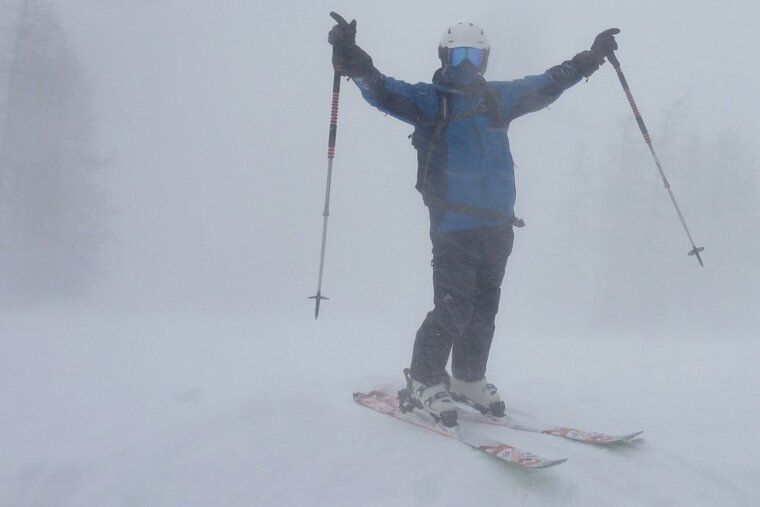 In Les Arcs head to the lower resorts of 1800, 1600, Plan Peisey and Vallandry as the trees line the slopes here and you can enjoy the definition that they give to the pistes. Take some of the long rolling blues through the trees from Les Arcs 1800 to 1600 which you can get to from the top of the Chantel or Les Villards chairlifts.
Or if you prefer to be off-piste in the trees, try either side of the Vanoise Express and stay between 1950m and 1300m where the tree-line is.
If you are high on the glacier and the weather closes in then stop and pitch up at a restaurant to see if the clouds will pass, but just make sure you have a route back down as sometimes the weather gets worse and not better.
Location
Les Arcs Region, La Plagne