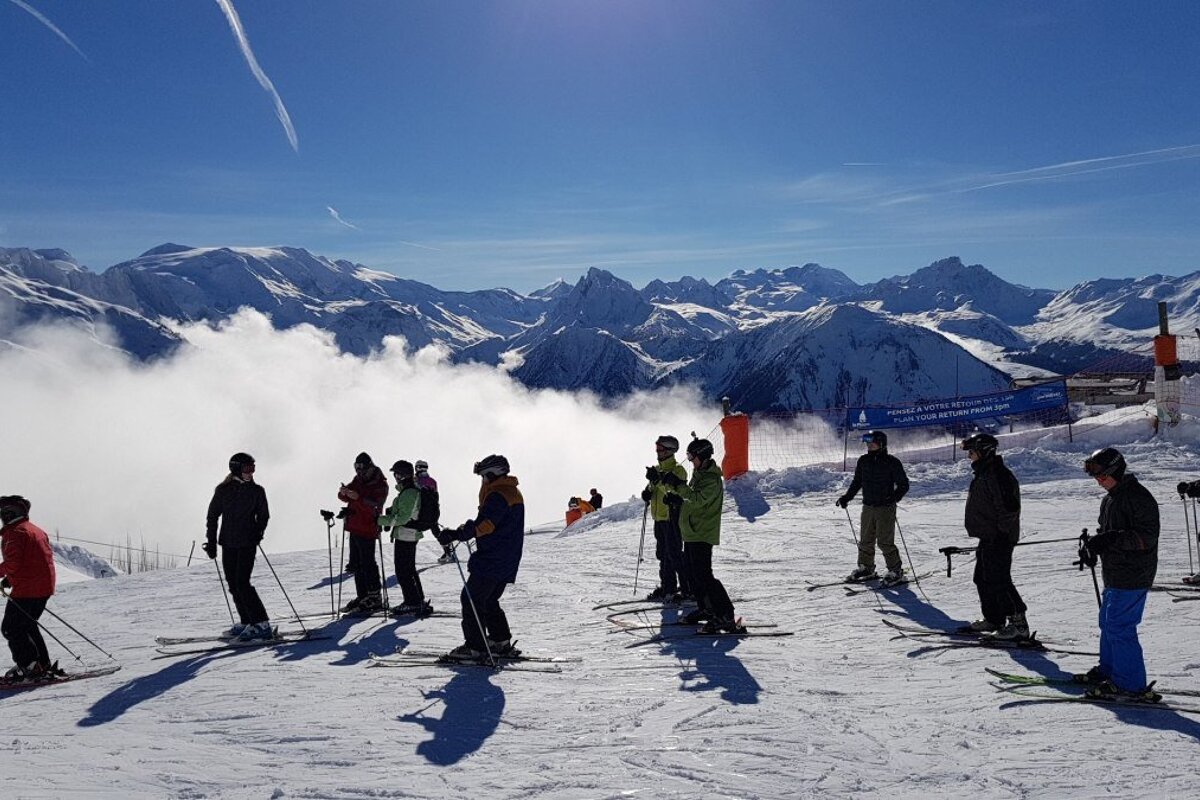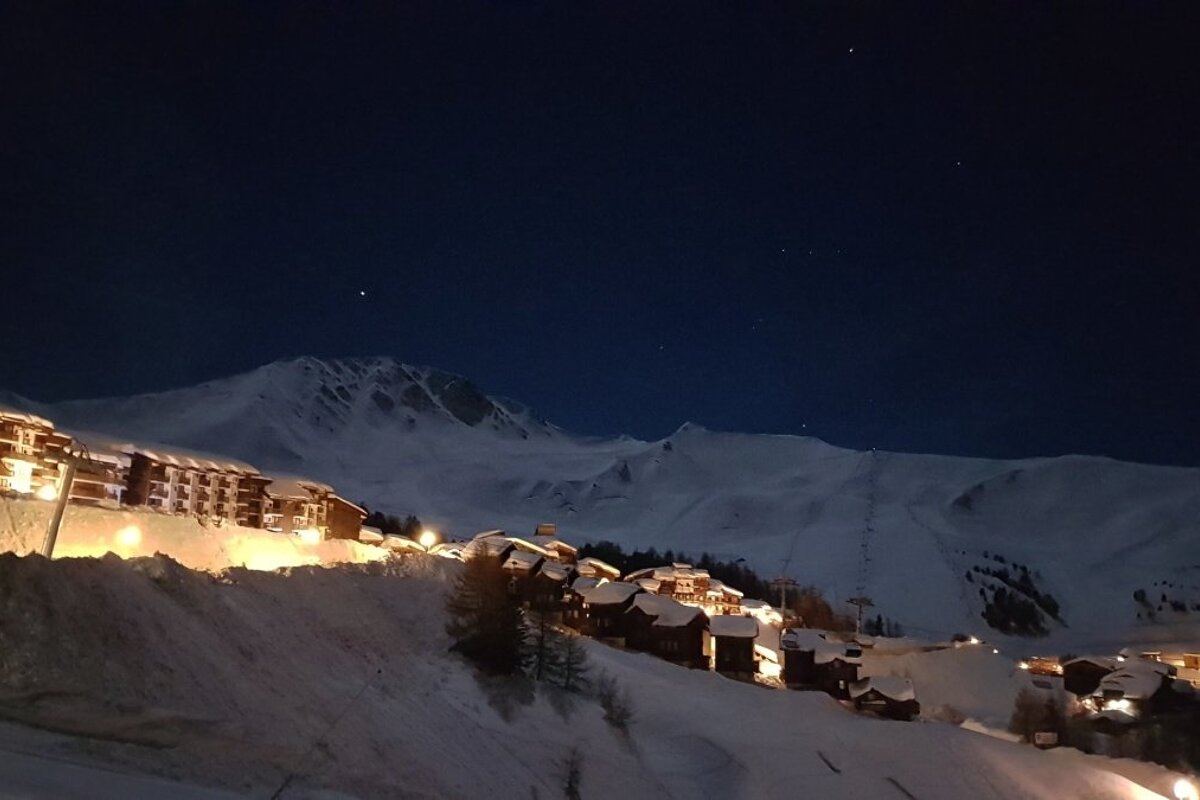 Make the most of half-term in La Plagne
Take the stress out of the busy holiday period
La Plagne and Les Arcs together form the massive Paradiski domain, the fourth biggest ski area in the world – and also the most popular. Just like every resort across Europe, the half-term holidays see large crowds descend on the area and, despite its huge size, Paradiski often suffers from overcrowding in the most popular sectors.
February is the most popular month to visit La Plagne and the next fortnight will see more visitors to the area than at any other time during the season. The resort will be buzzing with some pistes occasionally feeling very cramped during the day. Sometimes it can seem a little overwhelming but, with just a little bit of knowledge and forward planning, there are ways to avoid the worst bottlenecks and queues.
Plan your route and times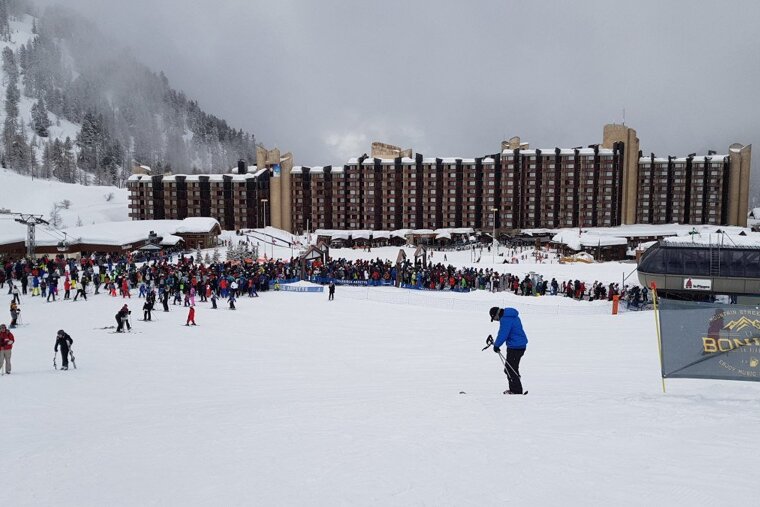 If you know what to look out for, there are definite busy times and places to avoid across the area. By mid-morning (from around 10:00 onwards) basically all lifts in Plagne Centre's main bowl and the Bellecôte bowl will be crowded. La Plagne primarily attracts beginner/intermediate level skiers and snowboarders, resulting in lots of ski classes assembling at the lifts. It also means there's an obscene amount of snaking ski school lines zig-zagging their way down the runs. Classes tend to congregate around the mellower pistes - mostly the runs close to the main stations – which explains why the Plagne Bellecôte and Plagne Centre bowls get very busy early morning.
The best tip is to be up and out early to avoid the worst of the queues. The areas used by ski schools remain busy most of the day but you can save yourself considerable queue time by catching these lifts first thing and moving further afield before the classes assemble. If you head for the further reaches of the resort (ie areas like Montchavin, Montalbert and Champagny) you will usually find considerably quieter runs – and therefore quieter lifts too.
Note that certain areas stay busy almost all day at this time of year ie the Bergerie lift in Villages/Soleil, Roche de Mio gondola, Arpette chair and Grande Rochette Funiplagne gondola. Also runs down through Belle Plagne can get ridiculously busy (to the point of almost being dangerous) with hordes of out of control, beginner skiers and snowboarders. Where possible, aim to take these lifts and runs sparingly - or in the early morning.
Consider different access routes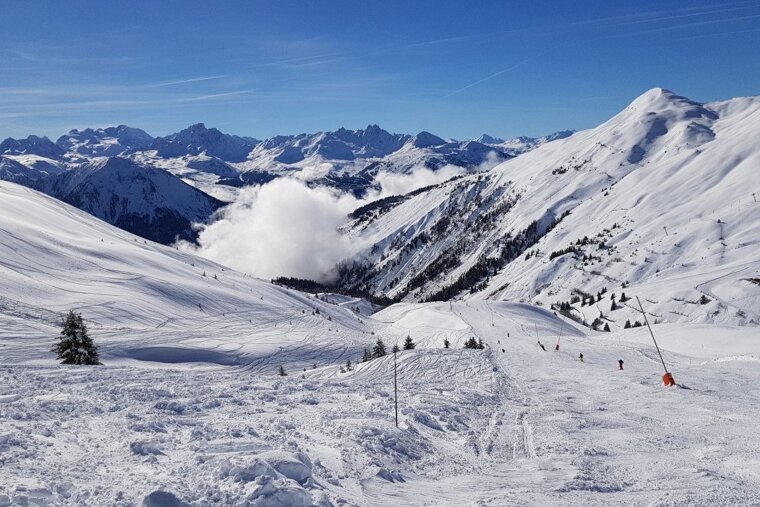 If you want to get to a particular part of the resort, check the piste map and consider your options for taking an alternate route rather than the seemingly most direct lift. For example, Les Blanchets chair in Bellecôte is almost always the quietest of all the lifts emanating from the bowl, yet it gives access to a huge amount of terrain. The chair is vastly under-used in comparison to the other lifts even though it provides alternative access to Roche de Mio via Carella rather than going direct on the main, very crowded Roche de Mio gondola (queue times for Roche de Mio can be upwards of 30 minutes at peak times during February). Another example is the Col de Forcle poma, which gives you the option of dropping into the Champagny sector - though it's barely used by anyone other than race-training classes. Or, if you're staying in Villages / Soleil, consider taking the beginner rope tow just up from Le Monica's to access the Dou du Praz poma. This will drop you at the top of an easy blue down into Bellecôte, thereby totally avoiding the queues on Bergerie. There are countless other options for getting around the resort where a less direct route will save you time queuing. Just look at the piste map and think creatively.
Avoid the slowest lifts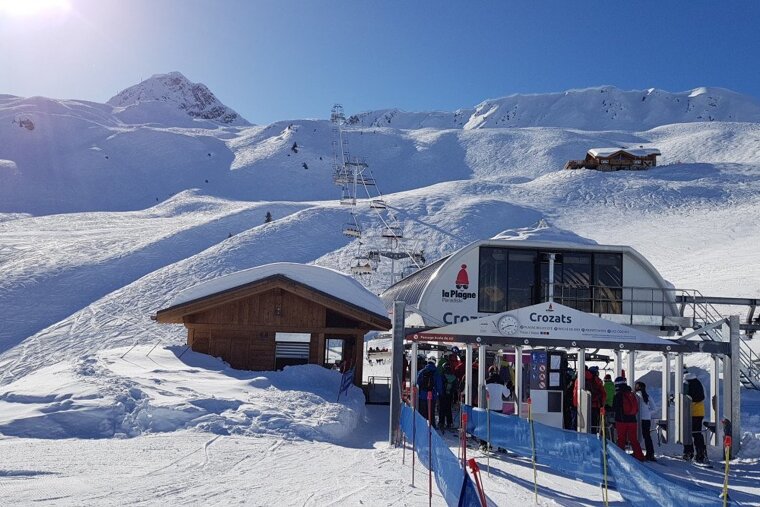 While La Plagne has embarked on a laudable program of refurbishment and infrastructure upgrades recently, the resort still suffers from a few too many outdated lifts – many of which are in key sectors. Two of the worst are the Roche de Mio and Bellecôte glacier gondolas which hark back to prehistory and trundle up the mountain at frustratingly slow speeds. Where possible, avoid these lifts – particularly at the busiest times – though, of course, the glacier gondola is an unavoidable evil if you want to access the highest point of the resort. In other areas, try to go for detachable, high-speed chairlifts rather than the fixed-grip, older variation. Detachable chairs ascend on a higher speed line then literally 'detach' in the bottom and top stations, derailing onto a slower speed line to allow you to get off safely. In French, these are called Télésiège Debrayable - or TSD for short (the old style, slower chairs are simply marked Télésiège (or TS). Frustratingly, the difference between the two isn't marked on the main piste map but you will see them marked in the Yuge app, available for Android and Apple iOS. An example of this can be seen returning from Montchavin where you have the option of the old Salla and Carroley chairs or the newly-refurbished Crozats TSD. Looking at the piste map, Crozats seems like an unnecessary diversion but, in truth, the chair is much quicker – plus it affords a better and longer run down from the top station.
Lunch late or lunch early – just don't ever lunch at lunchtime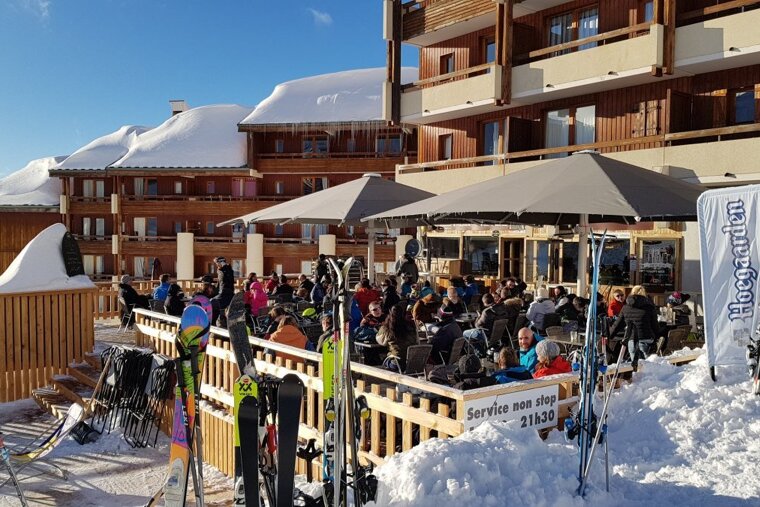 It seems obvious but another tip is to ride when others aren't. In France, this equates to lunchtime as the French really are a resolute bunch when it comes to food. Without fail, lifts and runs become unrecognisably quieter over lunch – basically between midday and 14:00. Ski schools also break over this time so you'll find runs that were previously stacked become virtually empty as the hordes head for their obligatory "bite to eat" (in France, this can mean three courses).
When it's busy, stick to the side of pistes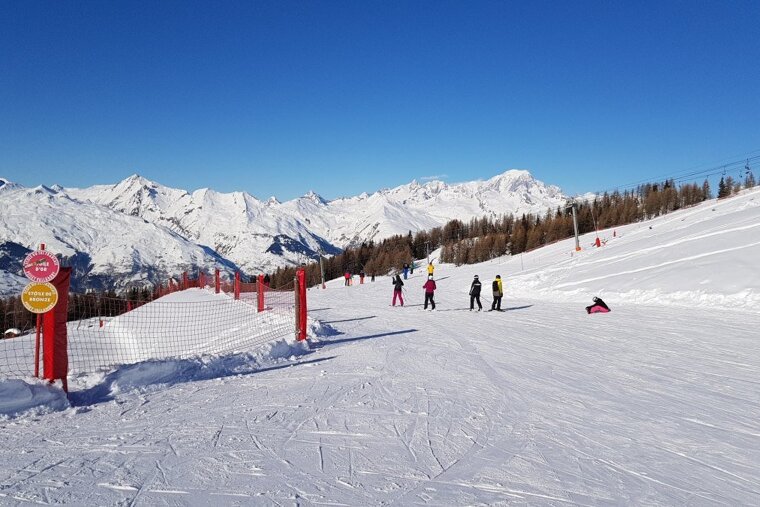 I'm almost loathed to say this as it will likely backfire on me next time I'm sneaking my way down the side of a run but, when it's busy, the side of the piste is almost always the place to be. The majority of people feel most comfortable riding the middle (i.e. the widest part) of runs. Consequently, you can avoid snaking crowds by riding the far left or right of pistes. Also, you'll often find the best snow at the side. Runs get scraped when there are lots of people - and the people pushing snow around can make runs much harder and expose the underlying hard base. This loose snow slowly forms into moguls in the middle of runs or, just as common, piles of soft snow at the side. While everyone else flounders their way down the scraped middle section, you can often make good headway on the sugary stuff lining the sides of runs.
Plan your route back and time it well
Just a cursory look at the La Plagne piste map should make it pretty easy to work out where the biggest bottlenecks across the resort occur. For example, Colosses in Bellecôte is a primary arterial link between the whole of the left of the piste map and the right. There's a reason this chair is the fastest in France – yet it still suffers from queues, particularly at the start and end of the day. Again, a little creative thinking here could lead you to trying other options. For example, you could take Les Blanchets chair, drop into the Champagny sector on Quillis and Levasset then take the Verdons Sud to the summit of Les Verdons followed by the multiple options back to Plagne Centre. It all depends on the time of day and your ability as, while you'll bypass the queues, this particular route does take a little time. Still, it's time spent riding rather than queuing. Win/win really. Plan your route back to allow yourself plenty of time and you could add multiple kilometres to your day.
Yuge app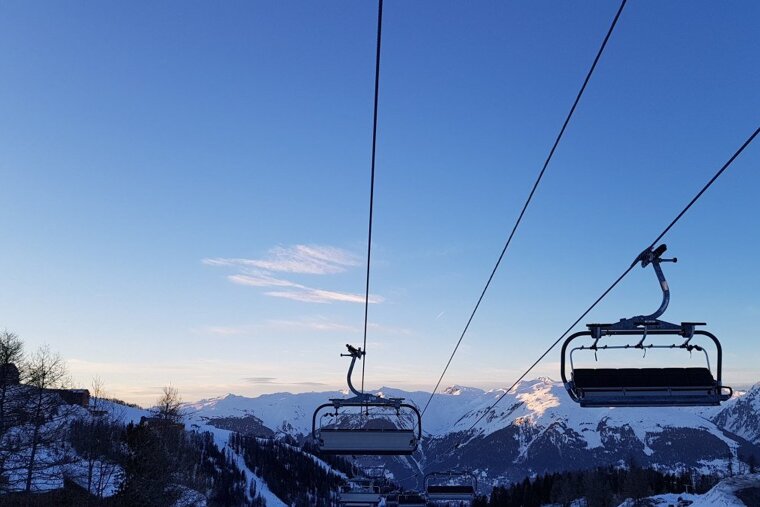 Love them or hate them, apps are a part of life these days – and, to be fair, the Yuge app does some things very, very well. I'm an app developer by trade so I can appreciate the complexity of the programming that goes into these things but even just from a general-use perspective, Yuge is a good example of how technology can be used to augment real life experience. In particular, Yuge has one killer function that trumps them all – it provides real-time updates and expected wait times for key lifts. It will also help you plan an itinerary to get from A to B and give you all the options for the lifts in between. The app has flaws for sure but using the lift monitor data could save you valuable riding time.
Stick to the harder runs or go off-piste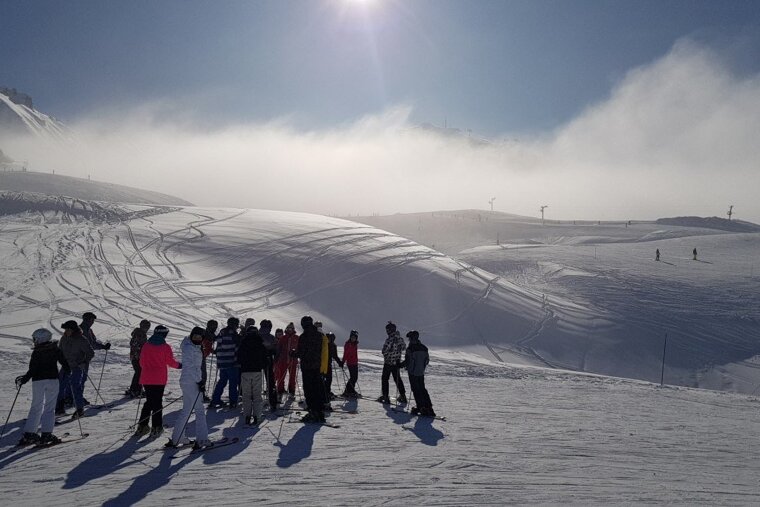 Read almost any review of La Plagne and you'd think the resort caters purely for beginner or intermediate level riders. And, to be fair, looking at the piste percentages, there's some truth to that with almost 80% of the in-bounds runs being rated blue or red. However, scratch a little below the surface and you'll soon find there's a wealth of challenging terrain here. True, a lot of that isn't within the pisted area but there is still a lot here to test even the best of riders. If your riding is up to it, you can use this squarely to your advantage by avoiding the crowded beginner areas and, instead, heading for the more difficult reds and blacks which are, by comparison, deserted. Also the off-piste here tends to stay fresher for longer – particularly on the more obscure and challenging routes. Get a guide and go off the beaten track for a day to learn more about what this huge area has to offer. Alternatively, if you're already skilled in the mountains, pop past Spitting Feathers in Bellecôte and have a word with Tim behind the bar. As a La Plagne local of 26 years, he knows this resort inside and out and will always be able to point you in the direction of the best routes and best snow.
Head to the quieter reaches of the resort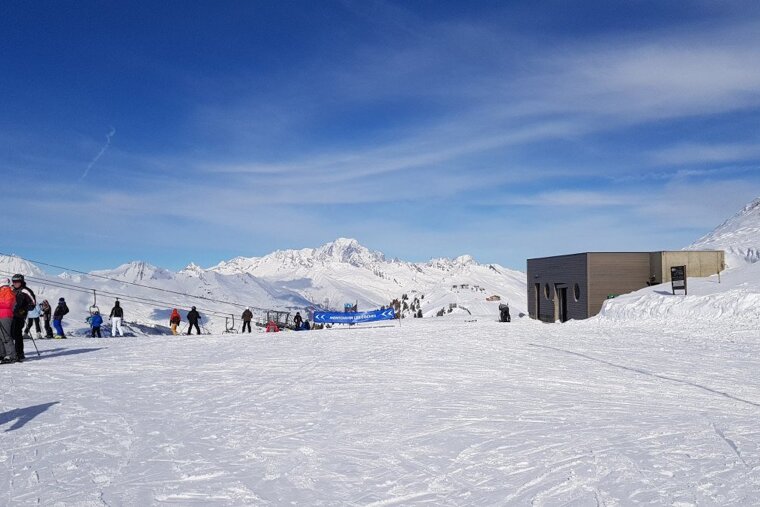 In very simple terms, this means heading left or right of the piste map. Almost without exception, most riders gravitate out of the lower, smaller confines of the resort and head up towards the higher reaches of the Bellecôte and Plagne Centre bowls. This means the lower areas are almost always quieter through the day. Bottlenecks tend to form first thing in the morning and from 15:00 onwards on the Montchavin side with people making their way to and from Les Arcs/La Plagne respectively. However, think smarter and go earlier or later and you can avoid the worst of the queues.
Jump on the Vanoise Express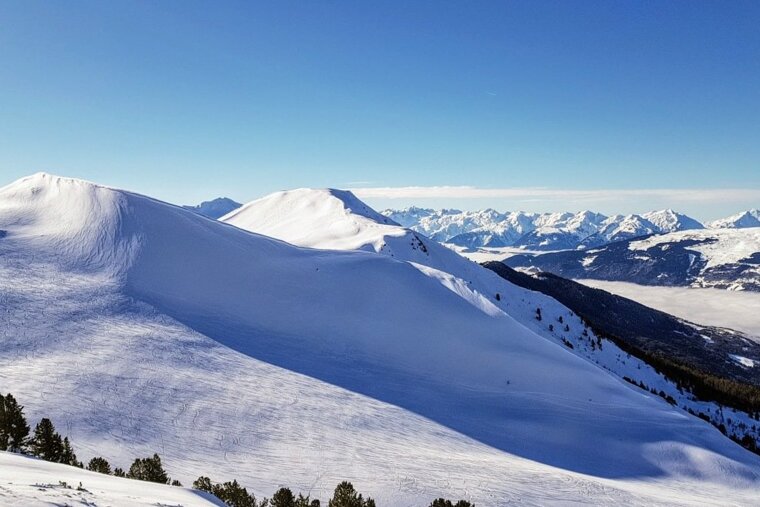 Together, La Plagne and Les Arcs make up the vast area that is Paradiski. While most riders tend to head for the centre of the piste map and the highest runs, one small corner of this huge area – Peisey-Vallandry in Les Arcs - is almost always a good bet for great, low queue skiing and snowboarding. In truth, this could easily justify being a stand-alone resort (it once was) but head here if you want some really varied riding with short wait times. For me, it's one of the best areas in the whole of Paradiski with an abundance of varied terrain, stunning views, tree-lined runs and endless routes just waiting for you to put your name on them. Peisey also gives access to the rest of Les Arcs, basically doubling the available terrain on your Paradiski pass.
La Plagne/Paradiski is one of the world's best and biggest ski areas with a wealth of terrain both on and off-piste to enjoy. That said, there's nothing more annoying than gingerly picking your way down a busy piste, filled with unpredictable riders bouncing around like popcorn in a pot. Try following these simple guidelines and you should maximise your piste time - even through the busiest times.
Stuart Hamilton is Creative Director of iRide App (iOS / Android) and Editor of Ski-App and Snowboard-App (ski and snowboard video apps available exclusively on Android).
Location
La Plagne - 1800, La Plagne